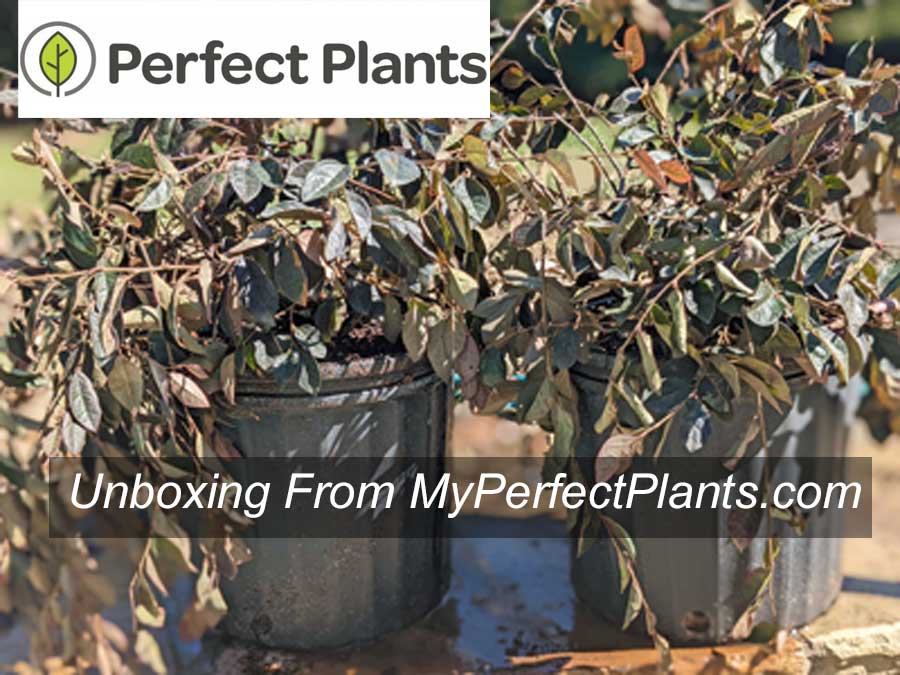 This is our fourth order from Perfect Plants Nursery, www.myperfectplants.com. Perfect Plants continues to impress us.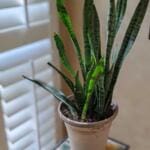 Our previous order from Perfect Plants Nursery was a Sansevieria Zeylanica Snake Houseplant placed last October. A 4-inch container for only $14.95. That plant was over 2 feet tall and is thriving!
This time we wanted a fast-growing evergreen to fill in a bare spot in one of our back corners of the back yard.
So, we decided to go with the unique Zhuzhou Loropetalum. They're also referred to as a Chinese Fringe flower for the dainty, bright pink flowers. They are fast-growing, can handle full-sun and are even drought tolerant once established.
We ordered back in January but entered a note on the cart page requesting shipping be delayed until March. Sure enough, they showed up on my front porch on March 3rd.
The site is super easy to get around on. It's nice they have express pay options. It took me directly to my preference when I clicked the checkout button. The 2, 3-gallon Loropetalums with shipping and tax came to $129.62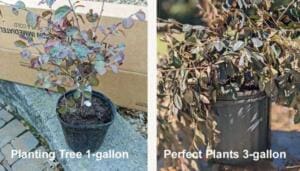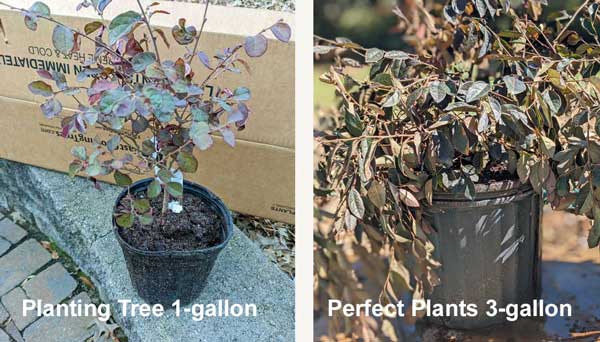 Comparing Perfect Plants to Planting Tree
Interestingly, we bought a 1-gallon Ruby Loropetalum from Planting Trees the same day. There was no delay shipping option. It showed up 3 days after ordering. Granted, a 1-gallon container but the difference in both the root systems and foliage was pretty amazing.
There were 7 of the dreaded industrial staples to pry out but they came out easily just pulling the top flap up. Just a side note; This is the thickest cardboard I have seen from any online nursery. 2, 3-gallon shrubs with wet soil weigh roughly 50 pounds. With the increasing cost of everything, including corrugated, it's refreshing to find someone not willing to sacrifice quality.
Speaking of quality, the root system for this early in the year was awesome! Perfect Plants Nursery has been a grower in the Florida panhandle since 1980. That gives them both  the experience and the climate to grow superior plants. You can view pictures of the root ball & much more below.
The 2 shrubs were snugly placed next to each other. After getting them out of the box, we noticed roughly 12 branches where they had either snapped along the stem or had completely broken off.
Considering how amazed I was at the thick foliage, losing a few did not bother me.
The bright colored poly bags used to cover the containers are secured with a zip tie. We always knew something was printed on the bags but never paid it much attention. Turns out it has some helpful, step-by-step tips. A picture of it is in the gallery below.
Since I had known for over a month that they were coming, I had already dug the planting holes. A good drink of water, some top soil and the new shrubs are settled in nicely in their new home.
Overall, we were impressed and consider MyPerfectPlants.com a great place to buy a wide assortment of trees, shrubs, houseplants and soil amendments.

Perfect Plants Nursery Unboxing Photo Gallery
Latest posts by Show me the green
(see all)