This is the second 2 to 3 foot, Improved Semi-Dwarf Meyer Lemon tree we bought the past month.  Our first order was with Fast Growing Trees and it left a lot to be desired. You can view pics and read our review here.
Four Winds Growers is just that, a grower. They operate two growing operations in California. They also fulfill orders for a number of other online stores including Jackson & Perkins, Nature Hills, Williams Sonoma and more.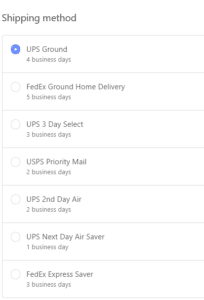 At the time of this review, Four Winds Growers had 64 citrus tree varieties for sale. They offer two sizes. An 'entry size' listed as 12" to 18" tall for $25. Then they offer a 'premium size', 2 to 3 feet for $45.
The Improved Meyer Lemon semi-dwarf tree is their most popular and best-selling tree.
We bought the Premium size. Shipping was $32.43 for a total of $77.43. Four Winds is one of the only online nurseries we know of that actually provides specific shipping options and costs based on your delivery zip code. Imagine that, someone who charges a fair price for the plant and real shipping costs with options. We selected the cheapest option, UPS Ground.
We ordered on a Monday, received a shipping confirmation email on Thursday and received the tree the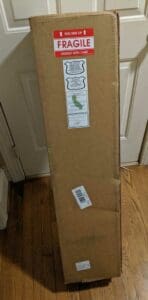 following Tuesday. So 8 days total from ordering to being delivered. I was a little worried, we had one of our worst early cold spells while the tree was being shipped. The temp was in the 20's when the box was dropped off at my front porch. That's why all of the pictures we've posted below are indoors.
The box was sturdy and undamaged after a 4 day trip across the country. There were 6 of the dreaded industrial staples to pry out but the tree was securely packed inside. No damage.
The tree came in a two gallon container!  Keep in mind I paid $10 more for a root bound 4 inch by 4 inch container that Fast Growing Trees sent me.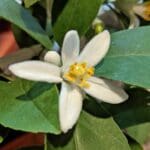 We've posted a gallery of pictures below. The tree itself was well-branched, dark green leaves and a few buds just beginning to show.  You could also see some new growth emerging from the top branches. The tree topped out at 32 inches. Overall, very satisfied.
It's now a few weeks later, I have replanted the tree into a larger container. It is sitting near a sunny window in my home office and the buds have opened. The sweet citrus aroma from the flowers is amazing.
Four Winds Growers website has a ton of useful information for taking care of home grown citrus trees. As a bonus, they also included a one page instruction overview in the box with my tree. All I got from fast-growing-tree.com was a flyer trying to sell me more plants.
Four Winds Growers, in our opinion, is the best place to buy the popular Improved Meyer Lemon tree as well as many other home grown citrus varieties they offer.
We also feel compelled to confirm that we are not getting compensated for this review, we paid for the tree and we will not receive any fees for anything you may buy at Four Winds Growers.
Picture Gallery
Unboxing Improved Meyer Lemon Tree Bought Online From Four Winds Growers
Latest posts by Show me the green
(see all)