Murray Cypress for sale from top rated online plant nurseries. Prices are updated daily.
Description
Sometimes referred to as an Improved Leyland Cypress, Murray Cypress trees grow faster and are considered hardier than Leyland Cypress. They are also stronger and more disease resistant. Murray Cypress are great for use as a privacy wall or wind break or to mark property lines. Growth rate is 3 to 5 feet per year.
Because of their fast growth and soft foliage, Murray Cypress have become popular recently as Christmas trees.
| | |
| --- | --- |
| Mature Height | 30 – 80 ft. |
| Mature Width | 12 – 20 ft. |
| Sunlight | Full sun to part shade |
| Soil Conditions | All soils |
| Grow zones | 6 to 10 |
| Botanical Name | Cupressus x leylandii 'Murray' |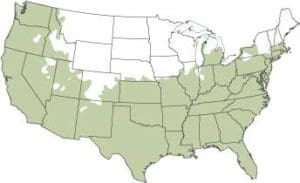 USDA Hardiness Zones 6 to 10
Keep in mind that we may receive commissions when you click our links and make purchases. This doesn't cost you anymore but it does allow us to continue publishing helpful content and updating the technology it takes to show you the lowest prices – thank you for your support!