Free Ship $119+

Description
Enjoy Growing One of the Most Unique Citrus Trees
Australian Finger Lime grows more compact, making it a great choice to be grown in a container. Just bring it indoors during cold weather in zones 4 through 7 and keep it near a sunny window.
The Australian Finger Lime is referred to as the caviar of fruit because of the tart, round beads inside the lime.  Small, pink-white flowers appear from November into February, followed by fruit ready to pick from May into July. If you bring your Australian Finger Lime tree indoors for winter, the blooms will fill the air with an amazing citrus aroma.
This is a citrus tree that is known for producing a lot of fruit. Australian Finger Lime trees are self-fertile.
Australian Finger Lime Tree Plant Facts:
| | |
| --- | --- |
| Botanical Name | Citrus australasica |
| Mature Height | 6 – 8 feet |
| Mature Spread | 4 – 5 feet |
| Growth Rate | slow |
| Harvest Time | May – July |
| Sun Exposure | Full sun, Partial sun |
| Soil | Well drained |
| Grow Zones | 4-7 patio / 8-11 outdoors |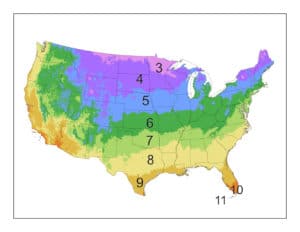 USDA Hardiness Grow Zone map
Do NOT buy a tree if only the height is listed. Call the nursery and ask what size container the tree is in. It can make a huge difference. We purchased a Mayer Lemon citrus tree listed as 3 to 4 feet from 2 nurseries. One came in a tiny 4 inch pot, the other in a 2 gallon container. Needless to say, the tree in the larger container was much better with more branches and a bigger trunk.

About our price comparisons:
We have either worked for, visited (to evaluate) or ordered from over 50 online garden centers. We strive to compare prices from online nurseries that we have experienced send the highest quality plants at the lowest prices.  Keep in mind that we may receive commissions when you click our links and make purchases. However, this does not impact our reviews, price comparisons or the price you pay. We try our best to keep things fair and balanced, in order to help you make the best choices.