Free Ship $125+

Free Ship $130+

Description
The Bearss Lime tree, also known as a Tahiti Lime and Bearrs Persian Lime, has some of the most aromatic flowers of all citrus trees. If you live in a colder climate, simply plant your Bearrs Lime tree in a container that you can bring indoors before the first hard frost. Bearss Lime is considered a dwarf tree that can grow up to 12 feet tall. Planted in a container you can keep them pruned to a more manageable height to make it easier to move indoors.
Bearss Lime trees are self-pollinating. Flowers typically come out in spring and fruit ripens in late fall and winter. The limes themselves are seedless and relatively large.
The Bearss Lime tree is one of the fastest growing citrus trees available for homeowners. They are also considered one of the most cold hardy lime trees available. They can handle a brief spell of 32 degree temperatures but you should bring your tree indoors before any hard freeze.  A hard freeze is considered temperatures of 32 or lower for more than 4 straight hours.
Do NOT buy a tree if only the height is listed. Call the nursery and ask what size container the tree is in. It can make a huge difference. We purchased a tree listed as 3 to 4 feet from 2 nurseries. One came in a tiny 4 inch pot, the other in a 2 gallon container. Needless to say, the tree in the larger container was much better with more branches and a bigger trunk.
| | |
| --- | --- |
| Botanical Name: | Citrus latifolia |
| Average Height: | 10 – 12 feet |
| Average Width: | 8 – 10 feet |
| Sunlight: | full sun |
| Spacing: | 8 feet |
| Grow Zones: | 8 to 11 outdoors | 4 to 11 patio |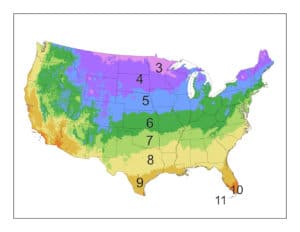 USDA Plant Hardiness Grow Zone Map
Frequently Asked Questions
Are Bearrs limes seedless?
Yes! Bearss limes, also called Persian limes and Tahiti limes are seedless. They are one of the juiciest limes.
Is Bearss Lime a tree or shrub?
Most nurseries graft them onto a dwarf standard, selling them as a tree. Grown naturally Bearss lime grows as a dense bush.
We strive to compare prices from online nurseries that we have experienced send the highest quality plants at the lowest prices. We worked for 3 of the top online nurseries for 10 years. We have also either visited (to evaluate) or ordered from over 30 nurseries & garden centers. Keep in mind that we may receive commissions when you click our links and make purchases. However, this does not impact our reviews, price comparisons or the price you pay. We try our best to keep things fair and balanced, in order to help you make the best choices.