Free Ship $125+

Free Ship $129+

Hollywood Juniper prices from top rated online plant nurseries. Prices are updated daily.
Description
Easy to Grow Evergreen With Unique Blue-Green Foliage
If you want an evergreen that is a bit unusual, this may be for you! Hollywood Juniper provides a very informal look because the branches tend to grow out in many different directions. It is easy to grow, thrives in many different soil conditions and can withstand summer heat to grow zone 9 and winter cold up to grow zone 5.
| | |
| --- | --- |
| Mature Height | 15 ft. |
| Mature Width | 10 ft. |
| Sunlight | Full Sun |
| Soil Conditions | Tolerates a wide-range of well-drained soils |
| Grow zones | 5 to 9 |
| Botanical Name | Juniperus chinensis 'Torulosa'' / Kaizuka' |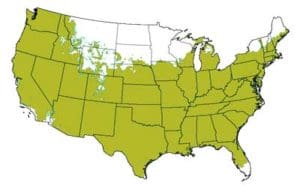 USDA Hardiness Zones 5 to 9
Hollywood Juniper Frequently Asked Questions
How bog does a Hollywood Juniper get?
At maturity, they will grow up to 15 feet tall and about 10 feet wide.
Do Hollywood Juniper's grow fast?
No. Growth rate for a Hollywood Juniper is less than 1 foot per year.
Does a Hollywood Juniper require a lot of pruning?
Many people enjoy Hollywood Juniper's because they have an irregular growth habit. The branches are not tightly spaced together in a neat shape.
Can a Hollywood Juniper grow in shade?
In warmer grow zones, a Hollywood Juniper will do well getting protection from the late afternoon summer sun. Overall, they can handle partially shady areas. That means they prefer at least 3 hours of direct sunlight a day. They will grow in areas where it only gets filtered sun, like under a large shade tree. They just won't grow as fast in these shady areas.