Lowest prices from our top rated online nurseries are updated daily. Clicking on a 'Shop Now' button will open a new tab to the nursery website listed.L
Description
Skip Laurel Best Prices Online
One of the Most Popular Fast Growing Privacy Hedges
Skip Laurel, also called Schip Laurel, is a fast-growing hedge that can handle a little bit of everything. They can thrive in full sun to part shade. Skip Laurel is not fussy about soil conditions as long as the soil stays well-drained. They are cold hardy to -10 degrees Fahrenheit.  These evergreen Laurel shrubs are also drought-tolerant and deer-resistant. They have dense foliage, which is why they are so popular for privacy.
These shrubs have very fragrant white flowers in spring that will attract many pollinators. The flowers turn into red berries that last from fall into winter.
The growth rate averages about 2 feet per year. This Laurel can grow up to 15 feet but can be kept trimmed to just about any height you desire. Pruning is best done in spring after they have flowered. When planting for a privacy hedge, space these Laurel shrubs about 4 feet apart to create a thick, lush evergreen privacy fence.
| | |
| --- | --- |
| BOTANICAL NAME: | Prunus laurocerasus |
| MATURE HEIGHT: | 14 to 16 feet untrimmed |
| MATURE WIDTH: | 5 to 6 feet |
| CLASSIFICATION: | Broad leaved evergreen shrub |
| SUNLIGHT: | Full Sun to Part Shade |
| HABIT: | Densely branched, upright |
| FOLIAGE: | Dark Green |
| WATERING: | Water well until established. |
| GROW ZONES: | 5 to 9 |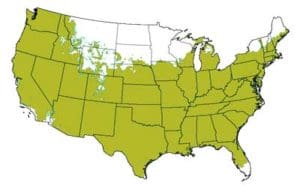 USDA Hardiness Zones 5 to 9
How fast does Skip Laurel grow?
Expect a minimum of 2 feet a year. It can grow as fast as 4 feet annually with ideal planting conditions.
How far apart should you plant Skip Laurels?
To create a dense privacy hedge, plant Skip Laurels 5 feet apart from the center of each planting hole. If you want a row but have space between each shrub, plant them 10 feet apart.
When is the best time to prune Skip Laurels?
Late spring into early summer after the shrubs has finished blooming is the best time to prune. Pruning in fall is okay but you risk not having enough time for new leaves to grow back by spring.
Are Skip Laurel shrubs deer proof?
There are very few shrubs that are deer proof. Skip Laurel are considered deer resistant but if hungry enough, deer will nibble on the leaves.
About our price comparisons:
We have either worked for, visited (to evaluate), or ordered from over 50 online garden centers. We strive to compare prices from online nurseries that we have experienced and send the highest quality plants at the lowest prices.  Keep in mind that we may receive commissions when you click our links and make purchases. However, this does not impact our reviews, price comparisons or the price you pay. We try our best to keep things fair and balanced, in order to help you make the best choices.