Description
Buy Shishi Gashira Camellia Online
Bright Pink Blooms in Winter!
Shishi Gashira is a sasanqua variety of Camellia. Sasanqua Camellia varieties typically bloom late fall into winter. Most are a little more cold-sensitive to longer subfreezing temperatures. Compared to the japonica variety of Camellia, sasanqua are typically smaller. Their height, leaves, and even blooms are a bit smaller. Some refer to Shishi Gashira as a dwarf Camellia.
Shishi Gashira produces large, beautiful semi-double pink blooms that are golden-yellow in the center. It also has dense, glossy, dark green foliage. The flowers are prized as cut flowers. They can be as big as 3 to 5 inches wide.
Uses: They can be used in a natural area to have color in winter. Because of their dense foliage, they make great hedges. Shishi Gashira is also one of the smaller Camellia, making them an attractive alternative to boxwood shrubs or hollies along foundations.
Shishi Gashira Camellia Plant Facts:
| | |
| --- | --- |
| Botanical Name: | Camellia sasanqua 'Shishi Gashira' |
| Mature Height: | 5 – 6 feet |
| Mature Width: | 5 – 6 feet |
| Sunlight: | Full to partial sun |
| Blooms: | Fall, Winter |
| Growth Rate: | 1 to 2 feet a year |
| Grow Zones: | 6 to 9 |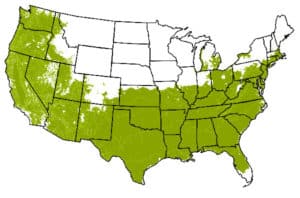 About our price comparisons:
We strive to compare prices from online nurseries that we have experienced send the highest quality plants at the lowest prices. We worked for 3 of the top online nurseries for 10 years. We have also either visited (to evaluate) or ordered from over 30 nurseries & garden centers. Keep in mind that we may receive commissions when you click our links and make purchases. However, this does not impact our reviews, price comparisons or the price you pay. We try our best to keep things fair and balanced, in order to help you make the best choices.
We ordered 3 Camellia's from Woodies Garden Goods Direct. View pictures and read our review here.