We bought 3 Camellia's from Garden Goods Direct.  Our first order from their store.  We've put a gallery of all the plants and un-boxing below.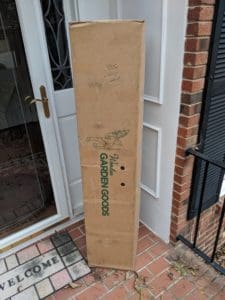 Very impressed with all the information on the various product pages. The shopping process was easy, and it was a nice option to be able to use Pay Pal at checkout. There are a few places that weren't very intuitive, making the checkout process a little longer than usual.  Nothing bad, just a few tweaks would make it flow a lot smoother.
We bought 3-gallon container sizes. Our total cost, including shipping was $122.27.  The same day of the order we went to a locally owned nursery and then a big box garden center. There was a total of 4 Camellia varieties available, not one of them were what we were looking for. 
Both the local nursery & big box garden center had 3-gallon Camellia's at an overall average price of $32. They were relatively good looking, similar in size, root systems & foliage to what we were sent by Garden Goods Direct. The biggest difference between what was available locally and what we received were buds & blooms!  All 3 we received from Garden Goods Direct had a lot of buds & blooms on them. That was a pleasant surprise.
It also confirms the huge advantage buying online.  You have so many more choices.  I could have saved about $30 buying them, lugging them home and settle for varieties I didn't desire.  I paid more but they were delivered to my front door and I was able to buy varieties I could not get locally.
We did want to delay our delivery by a week and sent customer service an email. They responded the same day. As mentioned in their review & rating, there's a strong suspicion that they are probably very, very good at growing landscape plant material but not as proficient on the marketing for the front end of the store/website.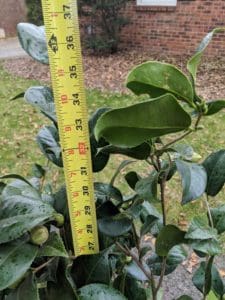 The customer service email had no signature. I got the impression it might have been sent from a phone; maybe not. The order confirmation email was one of the most generic, bland, uninspiring emails we've ever seen.  Keep in mind, 9+ years in the online nursery business was all spent in marketing; so, it's this kind of stuff we notice.
Anyway, some of their emails & communications just confirm that they don't focus as much on marketing as they do on what they're probably best at… growing trees & shrubs. This is not a bad thing.
The 3 Camellia's arrived in 2 boxes.  They did use a smart packing system to get 2 of the Camellia's in one box.  They secured a container on either end of the box (pictures below) so the heaviest pieces would balance out the box.  It's referred to as packing plants like a dumbbell.
We got the three Camellia's in the ground and heavily mulched around them. We had a few weeks from ordering to delivery, so the placement and holes had been dug already.  Made planting time a LOT easier!
Overall, a very good experience. Look forward to buying from them again next season.
Latest posts by Show me the green
(see all)