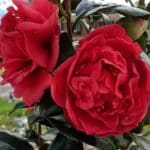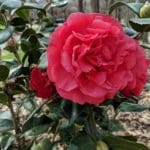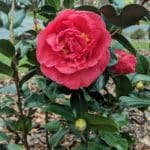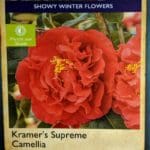 Free Ship $149+

Free Ship $119+

Free Ship $125+

Kramer's Supreme Camellia for sale from top rated online nurseries. Prices are updated daily. Clicking on a 'Shop Now' button will open a new tab to the online nursery listed.
Description
Deep Red Winter Blooms!
Kramer's Supreme is a japonica variety of Camellia. Japonica varieties are generally taller than sasanqua. Kramer's Supreme Japonica blooms a bit later than sasanqua, typically late winter. Japonica has larger flowers.
Kramer's Supreme Camellia's are prized for their stunning, deep red blooms and amazing aroma.  They resemble peony blooms. produce beautiful semi-double pink blooms that are golden-yellow in the center. It also has dense, glossy, dark green foliage. The flowers are prized as cut flowers.
Uses: They can be used in a natural area or woodland border to had color in winter. Because of their dense foliage, Kramer's Supreme also make great hedges.
Although they can handle full sun, avoiding late afternoon sun, especially in the summer is preferred. Once established, Kramer's Supreme is very easy to maintain.
We ordered a Kramer's Supreme along with 2 other Camellia's from Garden Goods Direct. View unboxing pictures and our review here.
| | |
| --- | --- |
| Botanical Name: | Camellia japonica 'Kramer's Supreme' |
| Average Height: | 6 – 8 feet |
| Average Width: | 6 – 8 feet |
| Sunlight: | Full sun to partial shade |
| Growth Rate: | Medium (1 – 2 feet per year) |
| Grow Zones: | 6 to 9 |
Kramer's Supreme Frequently Asked Questions
When should I prune Kramer's Supreme Camellia's?
Pruning should be done in late spring, after all blooms are gone. It's best to keep pruning to a minimum, just to keep the shape neat.
When does Kramer's Supreme bloom?
Kramer's Supreme is a Japonica Camellia variety meaning it flowers from mid-winter to spring (mid to late season).
Can Camellia's grow in shady areas?
In general, most Camellia's prefer sunny areas but can handle partial shade. The will usually do just fine under dappled sun like under a mature shade tree.