Bollywood Azalea for sale from top rated online plant nurseries. Prices are updated daily. Clicking on a 'Shop Now' button will open a new tab to the website listed.
Description
Bollywood Azalea, from Proven Winners®, is pretty rare because it has variegated foliage. This colorful azalea was created by Mike Farrow of Maryland and bred to be cold hardy. It is one of the most cold hardy azaleas, rated for temperatures as cold as in Grow Zone 5, which averages low temperatures of -10 to -20 degrees. It is, however, considered semi-evergreen in zone 5. In other words, it will lose it's inner foliage for extreme cold temperatures.
Since it only get to about 24 inches tall & wide, Bollywood azalea works great in tighter spaces. Bollywood Azalea is popular in mixed color borders, along walkways and driveways or as a single accent plant. Bollywood Azalea is cold hardy but is considered semi-evergreen in grow zone 5.
Bollywood Azalea can withstand full sun, especially grow zones 5 and 6. It is recommended to avoid late afternoon summer sun in warmer climates of grow zones 7 through 9. As with most Rhododendron, Bollywood prefers well drained, slightly acidic soil. Using a bark mulch or pine needles will help provide the acidic qualities Azaleas like. Mulch 2 to 3 inches deep for about a 2 foot radius around the base of the shrub. Using a good quality Azalea or Rhododendron fertilizer is also a good idea. Fertilize Azaleas twice a year. Once in late winter, before any blooms appear and again in late fall. Those are also the 2 best times of the year to prune Bollywood Azaleas.
| | |
| --- | --- |
| Botanical Name | Azalea BOLLYWOOD 'Farrow' |
| Foliage | Variegated |
| Mature Height | 18 – 24 inches |
| Mature Spread | 24 – 30 inches |
| Soil Type | Widely Adaptable |
| Sun Exposure | Full Sun, Partial Sun |
| Growth Rate | Medium |
| Flower Color | Deep Pink |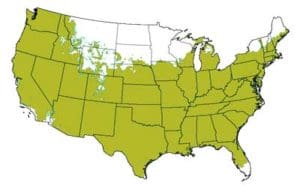 USDA Hardiness Zones 5 to 9