Moonglow Juniper trees for sale from top-rated online nurseries. Prices are updated daily. Clicking on a 'Shop Now' button will open a new tab to the website listed.
Description
Buy Moonglow Juniper Tree Online
Add visual interest and a touch of tranquility to your garden with the Moonglow Juniper Tree! These majestic conifers are eye-catching, low-maintenance evergreens that offer year-round appeal. Learn why this iconic tree is a great addition to any home garden, as well as the benefits of planting and buying a Moonglow Juniper Tree.
Advantages of Growing a Moonglow Juniper Tree
Moonglow Juniper Trees are highly adaptable, hardy evergreens that require only minimal care. When planted in an area with well-draining soil and full sun, they will thrive and grow faster than other coniferous trees. Their versatile, low-maintenance nature makes them perfect for all kinds of landscapes including along property lines, suburban gardens, and even balcony gardens. Plus, the soft silver-blue needles give a subtle pop of color to otherwise dull gardens!
The Environmental and Health Benefits of Growing Moonglow Juniper Trees
Planting a Moonglow Juniper Tree comes with many benefits, both for the environment and for your own personal health. Not only does this tree provide excellent shade during the warmer months, but it also improves air quality and provides protection from strong wind gusts. Planting a juniper tree can also have obvious health benefits through improved mental wellness. Mindful gardening has been found to reduce stress, improve mood, and increase physical activity – all of which are contributing factors to overall health!
Planting and Care Instructions for Moonglow Juniper Trees
Moonglow Juniper Trees are relatively carefree and require minimal upkeep to remain healthy and vibrant. Be sure to plant them in an area with well-draining soil and in full sun, such as a location that receives direct sun for at least 6 hours during the day. For optimal growth, water your Moonglow Juniper Tree deeply; once or twice a week if there isn't enough rain. Additionally, the tree should be fertilized annually to help keep it vigorous and provide the maximum amount of blooms during Springtime.
Plant Facts:
| | |
| --- | --- |
| HARDINESS ZONE: | 3-7 |
| MATURE HEIGHT: | 12 to 20 Feet |
| MATURE WIDTH: | 5 to 10 Feet |
| CLASSIFICATION: | Evergreen |
| SUNLIGHT: | Full sun |
| HABIT: | Pyramidal |
| FOLIAGE: | Blueish-green |
| SOIL CONDITION: | Any well drained soil |
| WATER REQUIREMENTS: | Water well until established |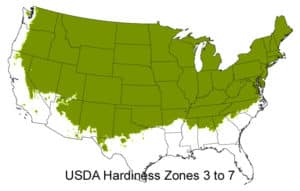 About Our Price Comparisons:
Since 2010 we have worked for 4 of the largest online plant nurseries. We have also visited (to evaluate) or ordered from over 50 online garden centers. We strive to compare prices from online nurseries we have experienced send the highest quality plants at the lowest prices.  Keep in mind that we may receive commissions when you click our links and make purchases. However, this does not impact our reviews, price comparisons, or the price you pay. We try our best to keep things fair and balanced, in order to help you make the best choices.