Nellie Stevens Holly for sale from our top rated online plant nurseries. Prices are updated daily.
Description
Nellie Stevens Holly For Sale Online
Nellie Stevens is a Fast Growing Holly Popular for Privacy
Nellie Stevens Holly is one of the most popular evergreen shrubs for creating privacy. Nellie Stevens Holly is considered one of the fastest growing holly shrubs with a growth rate of 3 feet a year. They have a natural pyramid shape, dense foliage and grow up to 25 feet tall. To create a privacy hedge, plant them 6 to 8 feet apart.
Nellie Stevens is a female variety but it does not require a male to bear the classic red holly berries in winter.  Nellie Stevens can bear some of the classic reed winter berries without a male to help pollinate her flowers. If you do want to consider a male to help ensure the most berries, Dwarf Burford is a great choice. If planted in the same vicinity, one male holly can pollinate 3 to 5 Nellie Stevens Hollies.
| | |
| --- | --- |
| Botanical Name: | Ilex 'Nellie R. Stevens' |
| Average Height: | 15 – 25 feet |
| Average Width: | 10 – 15 feet |
| Sunlight: | Full sun, Part sun, Part shade |
| Growth rate: | 2 – 3 feet per year |
| Spacing: | 6 – 8 feet |
| Grow Zones: | 6 to 9 |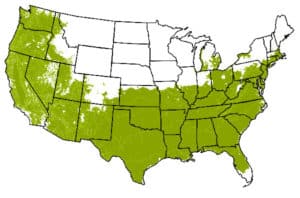 USDA Hardiness Zones 6 to 9
Planting & Care
Nellie Stevens Holly is relatively drought tolerant once established. They grow very slowly, however, without adequate water. This is especially true early on when it is growing new roots. Watering at least twice a week is recommended.
Nellie Stevens Holly trees grow well in a wide range of soils, ranging from all sand to compacted clay. Nellie Stevens has relatively shallow roots.  Mix your soil with organic compost or soil when planting in sandy or clay soils. Since the roots aren't very deep, it is important to dig your planting hole about twice as wide as the container so the root system will be able to easily expand.
When planting any container tree or shrub, it is important not to plant it deeper than the pot. You should see the soil from the top of the plant when you're done. Otherwise, you risk the stem rotting and your new plant could die.
Nellie Stevens Holly generally does not need pruning. If you want to keep it bushier, you can trim the top, central leader(s). General pruning can be done twice a year after new growth has emerged. It is not recommended to prune more than 3 to 4 inches at a time.
Frequently Asked Questions
How fast do Nellie Stevens Hollies grow?
Nellie Stevens have a fast growth rate. You can expect up to 3 feet of new growth per year.
Can Nelle Stevens handle shady areas?
Nellie Stevens are pretty adaptable to a wide variety of soil and sunlight. They can handle full sun to partially shady areas. Planting them under a taller shade or evergreen tree will slow the growth rate.
Do you need 2 Nellie Stevens to get the red berries?
Nellie Stevens are self fruiting but will usually do much better and produce a lot more red berries if there are 2 or more grouped near each other. There is a male variety, Edward Stevens, but is rarely needed.
About our price comparisons:
We have either worked for, visited (to evaluate) or ordered from over 50 online garden centers. We strive to compare prices from online nurseries that we have experienced send the highest quality plants at the lowest prices.  Keep in mind that we may receive commissions when you click our links and make purchases. However, this does not impact our reviews, price comparisons or the price you pay. We try our best to keep things fair and balanced, in order to help you make the best choices.