Free Ship $125+

Free Ship $130+

Admiration Barberry for sale from our top rated online nurseries. Prices are updated daily. Clicking on a 'Shop Now' button will open a new tab to the website listed.
Description
Admiration Japanese Barberry is a compact deciduous shrub with burgundy foliage.  They keep their leaves until an extended hard freeze.  Admiration Barberry does have beautiful red stems in winter, giving it 4 seasons of interest. It is considered semi-evergreen in warmer grow zones of 8 and 9. In warmer climates, they usually lose their outer foliage.
Admiration Barberry care is pretty simple. They are drought tolerant as well as deer & rabbit resistant. If you do want to prune, it is recommended to do so after the leaves fall ff in late fall or in late winter, before any new growth emerges.
At around 2 feet tall and wide, these shrubs are great for along garden borders or a walkway.
| | |
| --- | --- |
| Botanical Name: | Berberis thunbergii 'Admiration' |
| Average Height: | 2 – 3 feet |
| Average Width: | 2 – 3 feet |
| Spacing: | 2 – 3 feet |
| Sunlight: | Full sun, Partial sin |
| Grow Zones: | 5 to 9 |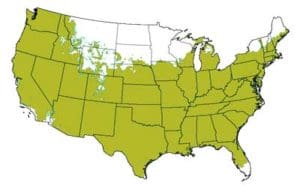 USDA Hardiness Zones 5 to 9
Admiration Barberry Frequently Asked Questions
Are Admiration Barberry evergreen shrubs?
No, they are considered deciduous and will lose their outer leaves in late fall. They do feature red stems in winter, adding interest to otherwise drab landscapes.
Do Admiration Barberry shrubs have thorns?
Yes! The thorns are the shrubs way of deterring deer and other critters who may want to much on their bright leaves.