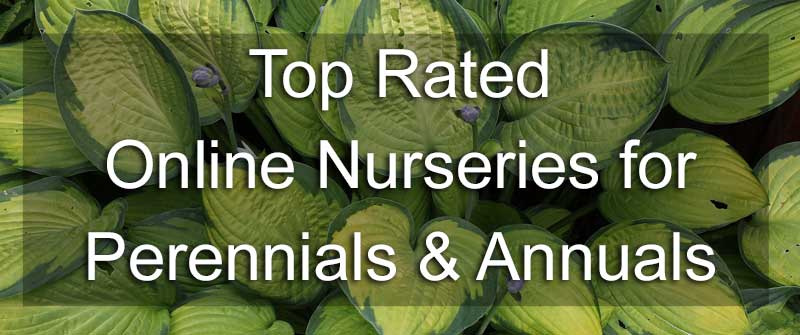 Although this site focuses on evergreen trees and shrubs, we wanted to share our top-rated online nurseries that sell perennials and annuals.   Whether you're shopping for perennials that come back each year or seasonal annuals; There's one huge advantage to consider buying them online… SELECTION! 
The average number of perennials for sale from our top 4 rated online nurseries is 785. Over 80 different varieties.  That's a LOT of choices!  For annuals the selection is about half as many but still impressive at 377. You will never find that kind of selection at a local garden center.
Prices ranged from a low of $1.75 up to $59.95. Most sites offer pre-planned collections for slightly more.  You will probably pay more, especially adding in shipping charges, but you are paying for plants you probably won't find locally. You also have the convenience of  home delivery.
Our Top Rated Online Nurseries for Perennials & Annuals
Bluestone Perennials
One of the most popular sites is Bluestone Perennials. Located just off the shores of Lake Erie in Northeastern Ohio, Bluestone Perennials has been family owned & operated since they started in 1972.
I had a chance to tour their facility a few years ago.  I left impressed. They seem to have a great operation and good employees.
Bluestone ships perennials in their own biodegradable pots. Their site says the perennials are 6 to 9 months old and the containers measure 3.5 inches square by 4 inches deep.
Bluestone does offer a print catalog. You can request one here.
Summary
Bluestone Perennials       www.BluestonePerennials.com
Location: Madison, OH
Price range:  $8 to $18.95 | They also sell pre-planned perennial garden packages at a higher price.
Selection: Over 1,200 perennials
Garden Crossings
If you want slightly more mature and larger perennials, Garden Crossings may be for you.  They have a huge selection of both perennials and annuals in container sizes ranging from 3.5 inches to 1 gallon.
Garden Crossings also sells evergreen trees and shrubs. In fact, they are our highest rated online nursery.  You can read their complete rating & review here.
Keep in mind that Garden Crossings is in Michigan. If you live in a warmer climate, perennials shipped from Michigan in early spring may not be as big yet as what you might find locally. You obviously won't have the same selection to pick from locally, so there is a small trade-off.
Summary
Garden Crossings             www.gardencrossings.com
Location: Zeeland, MI
Price Range:  $9 to $29
Selection: 80 perennial varieties and 60 varieties of annuals.
White Flower Farm
Family owned based in Northwest Connecticut, White Flower Farm has a good reputation within the industry. They sell a large selection of perennials and annuals and White Flower Farm has been in business since 1950.  They also sell houseplants, garden supplies, tools and more. 
White Flower Farm is one of few online nurseries that still offers a printed catalog. You can request one here.
White Flower Farm sells a wide variety of sizes, including bare root perennials.  They also offer an extensive array of pre-planned perennial collections.
Summary
White Flower Farm          www.whiteflowerfarm.com
Location: Litchfield, CT
Price Range:       $22.50 to $69
Selection:            Just over 500 perennials & 400+ annuals
High Country Gardens
Founded in 1984, High Country Gardens also has a good reputation within the industry.  They feature a lot of water-wise or xeriscape plants. High Country Gardens also offers bulbs, seeds & garden center products.
They have a wide selection of perennials, including over 24 varieties of Salvia (Sage). In total about 345 varieties to select from. They also have some great  navigational filters on the site to help you choose the best plants.
Most sizes we found were 5 inch pots and pricing was very reasonable.
Summary
High Country Gardens     www.highcountrygardens.com
Location:  Plants are grown in New Mexico, Utah & Colorado. Orders ship out of Denver, CO
Price Range:       $6.74 to $13.99 (More for collections)
Selection:            436 perennials
Succulents – Mountain Crest Gardens
Succulents have become extremely popular.  There are annual & perennial succulents. Our highest rated online nursery focusing on succulents is Mountain Crest Gardens.  Based in Fort Jones, CA, Mountain Crest Gardens is family owned & boasts on of the largest selections of succulents available online.
They sell 2 & 3 inch container sizes as well as 12 inch plugs and a few air plants with no pot. Mountain Crest Gardens website also offers a lot of helpful information.
Summary
Mountain Crest Gardens               www.mountaincrestgardens.com
Location:  Fort Collins, CA (Scott Valley in northern California)
Price Range:       $1.75 to $9.95
Selection:           589 in stock
From new & improved varieties to old favorites, you have hundreds of options online.  Just take the time to research perennials or annuals that will be best for your needs including sun exposure, moisture, grow zone, etc.
Whether you're looking for a single season of color from annuals or perennials that will spring back to life each year, we recommend you start with our top rated online nurseries for perennials and annuals.
All company names and logos are trademarks™ or registered® trademarks of their respective holders. Use of them does not imply any affiliation with or endorsement by them. 
Latest posts by Show me the green
(see all)