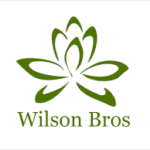 I ordered a Berkman's Golden Arborvitae from Wilson Brothers Gardens, www.wilsonbrosgardens.com, last Monday. Wilson Bros Gardens is based in McDonough, GA and has been on our radar for a while. The site is relatively new (2015) but the nursery started in 1989. They recently closed their retail garden center operation to focus more with online sales. They seem to have a large selection of trees & shrubs. Their inventory is impressive.
The order shipped the next day & I received it 2 days later, on Thursday. I've put a gallery together below of the packaging & Arborvitae shrub.
The ordering process was pretty smooth.  Getting around their site is easy enough. There are a few things that could make the process a little smoother for a user but nothing outrageous.
I paid $29.97 for a 1-gallon container that the site said was '18"-20" TALL - VERY NICE!'.  I went to a local garden center that same day. They didn't have the Berkman's Golden but two other 1-gallon arborvitae shrub varieties were $14.99 and $16.99 each.
Wilson Bros offers free shipping, with no minimum and no coupon codes. So, I just paid the $29.97. For comparison, we found a 1-gallon evergreen shrub at Nature Hills for $34.95 with an additional $17.95 for shipping. That's over $50 total.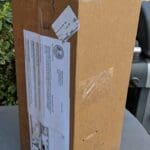 The box the Berkman's Golden Arborvitae came in had a compliance certificate taped onto it.  2 pages of planting instructions were included although they both seemed to be the same instructions.
The Arborvitae inside was secured with a cardboard collar around the container. Moist paper was placed on top of the container with packing tape to keep it in place.
The plant measured 16 inches, not the 18-20 inches they said online. To be fair, they had to bend the top of the plant to fit in the box. It topped out right at 18 inches the day after we took it out of the box.
Overall, I was very pleased.  I got a decent deal on an Arborvitae shrub that I could not buy locally. The Berkman's Golden Arborvitae has been planted in a container out on the patio and I look forward to enjoying it for years to come.
Photo gallery of Berkman's Golden Arborvitae (thuja) shrub ordered online from Wilson Bros Gardens.