Longleaf Pine trees for sale online. Prices updated daily.
Description
Longleaf Pine is a fast growing conifer.  Once established, a Longleaf Pine tree can grow as much as 5 feet in the first year. Overall, Longleaf Pine trees can get very tall and eventually become pretty slow growers. They are popular in construction because the trunks are known to be very straight and tall.  Longleaf Pine trees are also known to live a long time. Some are over 300 years old!
Needles are 12 to 18 inches long, thus the name 'Longleaf'.
| | |
| --- | --- |
| Botanical Name: | Pinus palustris |
| Average Height: | 60 – 80 feet |
| Average Width: | 30 – 40 feet |
| Sunlight: | Full to part shade |
| Spacing: | 6 feet |
| Grow Zones: | 5 to 9 |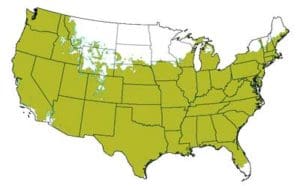 USDA Hardiness Zones 5 to 9