How do I know your reviews/grades are objective?
Great question! First, we are not owned by any nursery. Second, we do not accept free product, or payment for our reviews, and any photos of product we have received we have purchased as a regular customer. Finally, many of us have worked with some of the larger online nurseries. This made us realize we had knowledge we felt was worth sharing. For more information on how are grading is done please see here:  https://www.buyevergreenshrubs.com/ratings-grades-explained/
---
How do I know if something is grown organically?
This is a common question, and it's a little tricky. Here's the thing, anyone can say their products are organic. However, the only way to know for sure is if the company is Certified Organic. If you're looking for organic plants and the company is not certified, look elsewhere.
---
Why can't I get certain plants shipped to me?
Sounds like you have come across Agricultural Restrictions. Agricultural Restrictions are set by each individual state. These are basically laws that say a certain plant cannot be shipped into that state. There are many different reasons for this. If something is restricted to your state and you'd like to find out why you could contact your local Agricultural Extension Agency. There is one for every county in the US.
---
How late in the fall can I plant shrubs and trees?
Answer: Preferably you should have finished your fall planting 4 to 6 weeks before your first hard freeze. A hard freeze is 4 or more hours with the temperature below 25 degrees.  Predicting when that will happen is not easy.  Garden.org offers a free tool that offers historical average first hard freeze for your zip code.
---
What is a grow zone?
Answer: Any reputable online plant nursery will provide a range of grow zones each of their plants is best suited for. Hardiness zones, also known as 'grow zones' were created by the US department of Agriculture in conjunction with the Oregon State University's PRISM Climate Group.  The latest release from 2012 divides the lower 48 contiguous United States into geographic climate zones. Essentially, it is a guide for you to compare your climate with the ideal climate any particular plant (evergreen shrub) has.  View grow zone maps.
---
What are the most popular evergreen shrubs for privacy?
Answer: Nellie Stevens holly is one of the most popular privacy evergreen shrubs.  They are fast growing up to 3 feet a year. They grow as tall as 30 feet and keep a pyramidal shape naturally.  Ligustrums & privets are also common privacy hedges, predominantly in the south. American Holly is another popular privacy shrub. Hicks Yew is another one as well as a few Junipers such as Blue Point and Witchita Blue.
---
What is bare root?
Answer: Like almost everything in the horticultural word, bare root has more than one answer.  For the most part, bare root refers to a tree or shrub that is grown in the ground (versus container grown) and is removed once it has gone dormant.  Once the soil has been removed, they are stored in a cooler to keep them in a dormant state.  They are typically wrapped in a moist medium prior to shipping. 
---
What's the difference between full shade and part shade?
Answer:  6 hours of sun or less is considered part shade.  Full shade is described as getting 3 hours or less of direct sunlight.
---
What is dappled sun?
Answer:  Dappled sun is any area that doesn't get a lot of direct sun. It only gets indirect sunlight. Planting underneath an established tree is the most common example for home landscapes.
---
What is meant by the caliper of a tree?
Answer: Any single trunk tree or shrub can be measured, using a tool called a caliper, to determine the diameter of the trunk.  There are industry standards where to measure the caliper of a trunk. Generally, the larger the tree's caliper, the larger the plant.  Knowing the caliper or diameter helps you get a better feel for the tree as opposed to just knowing height or container size. 
---
What is Ball & Burlap?
Answer:  Ball & Burlap is a term for digging the root ball of a tree or shrub (usually tree) out of the ground and wrapping it in burlap.  This is a plant that is not grown in a container.
---
What is a panicle?
Answer: It's a plant anatomy term used to describe a branching cluster of flowers.  Some hydrangeas are considered panicle. Yucca is another example.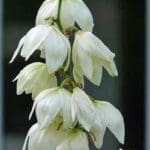 Have a question not listed?  Contact us & we'll get you an answer.