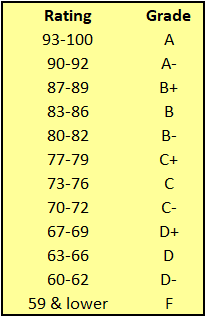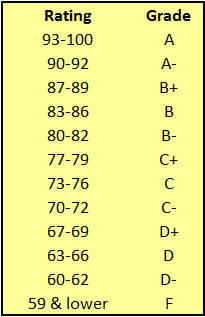 Grading Scale
We look at 10 different factors and apply a score between 1 and 10 for each one with a maximum score of 100. Then we simply apply an overall grade based on the total points earned from the ratings using a standard grading scale. 
So, what do we evaluate?
Years website has been active 
It's good to know if someone has been around for a while. That's not saying a relatively new online nursery can't be good it just won't score as high for this factor.
Pricing
What is the nurseries pricing online as compared to other sites selling the same plants and sizes.  We have over 20 years combined experience in this industry, including 6 years setting the pricing for one of the larger online nurseries. We not only have a good feel for each sites overall pricing, we also have access to every plant, size and price which we compare monthly. The grade is reflective to the overall pricing. 
Refund Policy
We look at the fine print.  What are you agreeing to when you order?  We give each site a rating based on clarity and quality of their refund policy.
Reviews
Can you trust the reviews you read online?  We try to dig past the typical fluff and look for signs that they try to be genuine, suppress bad reviews or worse, possibly enter reviews themselves.
Warranty/Guarantee
Again, we look at the fine print you agree to when you buy. A 1 year warranty at an extra cost has become popular lately but what are you really buying?
Selection
How many evergreen shrubs do they sell online?  Kind of important to know!  Keep in mind it's a snapshot from the day we look. We do update monthly.  Just because someone only has 4 or 5 evergreen shrubs for sale now doesn't mean they won't have more in stock on our next update.
Range of sizes
Are they selling mostly small or large sizes or a variety of them?  Do they list both container size and height range of the evergreen shrubs they sell?
Ship Times 
When will they ship your order?  Are they specific or vague? Do they offer an opportunity to delay shipping for a specific date?
Ship Costs
Shipping live shrubs is not cheap.  Most sites factor in the cost to pull the plant from the field, prep the plants, box them and the ship cost. Having said that, some sites use their ship costs as a profit center. Some, when they do offer shipping promotions, raise their product prices.  We'll rate each site on what we find.
Usability
This is somewhat subjective but how easy is it to get around the site & find what you're looking for. We look at things like page load times (is the site fast or slow?), is their navigation user friendly, does site search help, is checking out easy to understand, do they accept all major payment options.
Red Flags 
We take one point from the total score for things that just seem a bit off.  We'll explain the specific details for each sites review details but it is usually things that seem vague or ambiguous.  Some may be intentional, some not.