Free Ship $119+

Free Ship $119+

Free Ship $130+

Chicago Hardy Fig tree best prices from our top rated online nurseries. Clicking a Shop Now button will open a new tab to the product page for the nursery listed.
Description
Chicago Hardy Fig Tree is Self-Pollinating!
Gorgeous Chicago Hardy is a reliable and elegant Fig type! Beginner and Advanced Growers will be enticed by the large fruit harvest produced by this tree combined with its low-maintenance qualities!
Chicago Hardy is, like its name suggests, durable against harsh winters and various climates in the United States. Fruits of this tree are pleasantly plump and purple, with a strawberry red interior.
The inside fruit is known to hold a succulently sweet flavor that is juicy on first bite, perfect for picking ripe from the tree.
The flesh of this fruit holds its firmness when broken down for baking, making jam/preserves, or when serving as finger food. When grilled with complimentary meats this dense fruit will absorb the smoky aroma brought on by bacon, pork, lamb, and beef, adding an additional layer of flavoring.
The tree itself is quaint and stout, maturing to a height of just 15 feet and taking up minimal space in the landscape. Although small, this mighty tree will produce almost twice as many figs per harvest than the Southern species.
Plant Facts
| | |
| --- | --- |
| Mature Height: | 15-30 ft. |
| Mature Width: | 15-30 ft. |
| Sunlight: | Full-Partial |
| Growth Rate: | Moderate |
| Harvest Time: | July-October |
| Year to Bear: | Can Fruit the 1st year! |
| Botanical Name: | Ficus carica 'Chicago Hardy' |
| Grows Well In Zones: | 5-10 outdoors |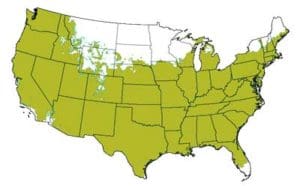 USDA Hardiness Grow Zones 5-10