Free Ship $129+

Free Ship $119+

Free Ship $125+

August Beauty Gardenia prices from top rated online plant nurseries. Prices are updated daily. Clicking on a 'Shop Now' button will open a new tab to the website listed.
Description
Months of Blooms Makes This a Best-Selling Gardenia
August Beauty Gardenia Features
Fragrant
Showy flowers
Long blooming
August Beauty Gardenia brings that classic southern summer fragrance to your home.  August Beauty is know as a prolific bloomer and blooms for up to 3 months. The blooms make great cut flowers so you can bring their amazing scent indoors.
This gardenia isn't too fussy. It can handle a variety of soils, even some of the hard packed southern clay soils. But, it's always a good idea to add some good top soil or compost in your planting hole.
August beauty Gardenia Plant Facts:
| | |
| --- | --- |
| Botanical Name: | Gardenia jasminoides 'August Beauty' |
| Average Height: | 3 – 4 feet |
| Average Width: | 4 – 5 feet |
| Grow Zones: | 7 to 9 |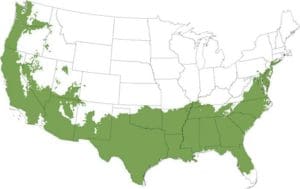 USDA Hardiness Zones 7 to 9
August Beauty Gardenia Frequently Asked Questions
Do Gardenias need sun or shade?
August Beauty Gardenias do best with filtered sun. Some refer to it as dappled sunlight, as the sun that is filtered through a taller shade tree.
Are gardenias poisonous to dogs and cats?
The stems, leaves, and flower of a gardenia plant contain geniposides and gardenosides, two toxins to dogs and cats.