Manhattan Euonymus prices from top rated online plant nurseries. Prices are updated daily. Clicking on a 'Shop Now' button will open a new tab to the website listed.
Description
Fast growing with dense, green foliage makes this a great hedge. It rarely needs pruning & naturally keeps a formal appearance.
| | |
| --- | --- |
| Botanical Name: | Euonymus kiautschovicus 'Manhattan' |
| Average Height: | 6 – 8 feet |
| Average Width: | 4 – 5 feet |
| Sunlight: | full sun, part sun |
| Spacing: | 4 feet |
| Grow Zones: | 5 to 8 |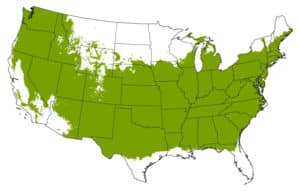 USDA Hardiness Zones 5 to 8
Frequently Asked Questions
Is the Manhattan Euonymus an evergreen?
Yes. The Manhattan Euonymus is a dense, broadleaf evergreen. It will retain its dark green leave throughout the year.
Can the Manhattan Euonymus be pruned?
Yes. Although the natural form of the Manhattan Euonymus is beautiful, it is a fast grower that takes well to pruning.
Can the Manhattan Euonymus be planted in the shade?
Yes. The hardy and adaptable Manhattan Euonymus performs as well in full shade as it does in full sun.