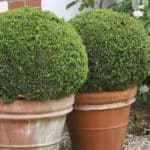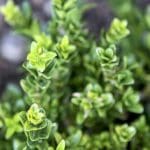 Free Ship $119+

Free Ship $129+

Free Ship $125+

Sprinter® Boxwood for sale from top rated online plant nurseries. Prices are updated daily. Clicking on a 'Shop Now' button will open a new tab to the website listed.
Description
Faster Growing Then Most Other Boxwoods
Sprinter® Boxwood (buxus) has a faster growth rate then the popular Winter Gem Boxwood. This is a Boxwood that is unique for having more of an upright growth habit but staying mounded and compact. The growth rate for Sprinter® is faster than almost any other boxwood. It will fill in a lot faster than the most other Boxwood varieties. This Proven Winners® selection is cold hardy, deer resistant and easily adapts to a wide variety of conditions. Buxus Sprinter Boxwood can also be easily pruned to shape. It grows best in full to part sun.
Sprinter Boxwood is used a low growing hedge. It is also chosen for edging and formal gardens. Sprinter Boxwood is also a good choice for containers as well. Sprinter is also a popular choice with seashore homes. Sprinter is known for being very tolerant with salt sprays & saline soil.
Sprinter Boxwood Plant Facts
| | |
| --- | --- |
| Brand: | Proven Winners® ColorChoice |
| Botanical Name: | Buxus microphylla 'Bulthouse' |
| Mature Height: | 2 – 4 feet |
| Mature Spread: | 2 – 4 feet |
| Moisture: | Average |
| Sun Exposure: | Full Sun, Partial Sun |
| Growth Rate: | Fast, Medium |
| Grow Zones: | 5 to 9 |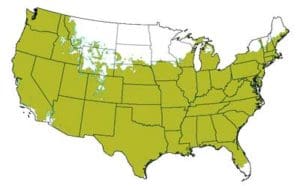 USDA Hardiness Zones 5 to 9
Sprinter Boxwood Planting & Care
When choosing a planting location, remember Sprinter Boxwood performs best in full to partial sun. Although it's adaptable to most soil conditions, it does need soil that drains well. Here's a simple soil drainage test.   Dig your planting hole about 6 inches deeper and twice as wide as the container. Mix the soil you dug out with a high quality top soil. You want roughly 50% soil you dug out with 50% the top soil you blended in.
Back fill the hole so that the very top of the dirt from the container can still be seen. Do not let the base of the boxwood shrub get below the soil line. This is one of the biggest mistakes homeowners make. Fill in the dirt & pack it down with your shovel or foot. The idea is to remove any possible air pockets. Add 3 inches of mulch around the base of the shrub. Water well and continue watering twice a week (if there's no rain) for the next 3 to 4 weeks. The goal is to give it the equivalent of 1 inch of water weekly.
Add a slow release fertilizer before the new growth appears in spring. Pruning can also be done at this time. Pruning Sprinter Boxwood can be done almost any time of the year. It can handle pretty heavy pruning. Do not prune when it is raining, the shrub is wet or during extended periods of summer heat or winter cold.
Sprinter Boxwood Frequently Asked Questions
How fast does Sprinter Boxwood grow?
Growth rate for the Sprinter Boxwood is considered moderate. Expect roughly 6 inches of ew growth per year.
How big do Sprinter Boxwood shrubs get?
At maturity, Sprinter Boxwoods get up to 4 feet tall and wide.
When is the best time to prune Sprinter Boxwood?
Sprinter Boxwood shrubs keep a naturally mounded shape and rarely need pruning. It can be pruned almost any time of the year but is best to do some light pruning in early spring, before new growth emerges.
Are Sprinter Boxwoods evergreens?
Although they go dormant in winter, Sprinter Boxwoods do not lose their leaves and are considered evergreens.