Description
Japanese Plum Yew prices are from top rated online plant nurseries. Prices are updated daily. Clicking on a 'Shop Now' button will open a new tab to the website listed.
Japanese Plum Yew, also known as Cephalotaxus Yewtopia®, is a low maintenance plant that is deer resistant and heat tolerant. It is shade tolerant. They are popular for areas underneath shade trees.
| | |
| --- | --- |
| Genus | Cephalotaxus |
| Species | harringtonia |
| Variety | 'Plania' |
| Zone | 6 – 9 |
| Plant Height | 3 ft – 4 ft |
| Plant Width | 3 ft – 4 ft |
| Additional Characteristics | Evergreen |
| Foliage Color | Dark Green, Medium Green |
| Light Requirements | Part Shade, Shade |
| Moisture Requirements | Moist,  well-drained, Wet |
| Resistance | Deer Resistance, Drought Tolerant, Heat Tolerant |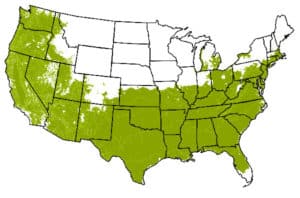 USDA Hardiness Zones 6 to 9
Frequently Asked Questions
Where should you plant a Japanese Plum Yew?
The Japanese Plum Yew is a versatile evergreen. In warmer zones it will do best in an area with part sun to full shade. However, in cooler zones with more mild summers, it can be grown in full sun.
Is the Japanese Plum Yew deer resistant?
Yes. The Japanese Plum Yew is pest, disease, and deer resistant.
How fast does a Japanese Plum Yew grow?
The Japanese Plum Yew is considered a slow to moderate grower. It grows about a foot a year.
About our price comparisons:
We have either worked for, visited (to evaluate) or ordered from over 50 online garden centers. We strive to compare prices from online nurseries that we have experienced send the highest quality plants at the lowest prices.  Keep in mind that we may receive commissions when you click our links and make purchases. However, this does not impact our reviews, price comparisons or the price you pay. We try our best to keep things fair and balanced, in order to help you make the best choices.