Free Ship $130+

Free Ship $149+


Free Ship $119+

Description
Dwarf Mugo Pine, also known as Dwarf Pines, is a dwarf conifer. 'Mughus' is one of the most cold hardy varieties, surviving temperatures down to -50 degrees! Dwarf Mugo Pine conifers are known for their dense green foliage all the way from the ground up. As a conifer, they do have small clusters of pine cones in late fall and winter. New growth of needles shoot upward, almost like a candle and are a bright green. Mughus Mugo Pine has soft textured needles and is one of the easiest shrubs to grow. It's almost like they thrive on neglect.  They rarely need pruning, are deer resistant and can work with most soil types.
Mughus Mugo Pine is popular as a very thick privacy hedge. Just make sure you have enough room as they can get as much as 15 feet wide. Mugo Pine can handle some light pruning but you won't be able to keep it much smaller than it's natural width. Space them about 5 feet apart on center to create a privacy wall.
Mughus Mugo Pine Plant Facts
| | |
| --- | --- |
| Botanical Name | Pinus Mugo var Mughus |
| Soil Type | Adaptable, Well-drained |
| Sunlight | Full Sun, Part Sun |
| Drought Tolerance | Semi |
| Mature Height | 8-10 Feet |
| Mature Width | 10-15 Feet |
| Growth Rate | Slow |
| Drought Tolerance | Semi |
| Grow Zones | 3 to 8 |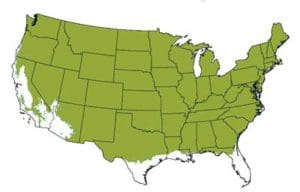 USDA Hardiness Zones 3 to 8
Dwarf Mugo Pine Frequently Asked Questions
How tall does a mugo pine get?
At maturity, they will get 8 to 20 feet tall.
How fast do mugo pine grow?
Their growth rate is considered slow. Expect roughly 6 inches of new growth per year.
Can mugo pine handle shady areas?
Mugo pine prefer sunny locations to thrive. On average, it needs at least 3 hours a day of direct sunlight
Mugo Pine (var: Mughus) Care
Dwarf conifers such as the Mughus Mugo Pine are some of the most unique landscape plants. They like to spread out but naturally grows into a mounding shape. They can handle light pruning in spring and fall but don't go to heavy handed with the pruning.  They are best suited for northern climates. They do great handling New England winters.
Plant your Mugo Pine where it can get full sun. They can do okay in partial sun but there's a tendency for the shrubs not get as thick & lush with less sun. These dwarf pines can grow in most soil conditions but prefer loose, well drained soil. It's always a good idea to amend your soil with a high quality top soil or compost.
About our price comparisons:
We have either worked for, visited (to evaluate) or ordered from over 50 online garden centers. We strive to compare prices from online nurseries that we have experienced send the highest quality plants at the lowest prices.  Keep in mind that we may receive commissions when you click our links and make purchases. However, this does not impact our reviews, price comparisons or the price you pay. We try our best to keep things fair and balanced, in order to help you make the best choices.