Free Ship $129+

Free Ship $119+

Free Ship $149+

Description
Sweet, seedless Navel oranges are one of the most popular selling oranges at grocery stores. Navel orange trees are pretty easy to grow. If you live in a colder climate, plant them in a container to bring indoors in the winter. The blooms have an amazing sweet citrus aroma.
Easy to grow. The Navel Orange tree is easy to grow. In colder climates, brig it indoors & keep near a sunny window.
It is drought tolerant and pest and disease resistant.
Health benefits. This yummy citrus fruit provides vitamins, minerals, and other healthy compounds. It also benefits the immune system and can promote heart and digestive health.
Self-fertile citrus tree. You only need one Navel Orange tree to grow plenty of fruit. Cross-pollination is not necessary for citrus trees to produce fruit.
Year-round appeal. This evergreen tree has nice green foliage, fragrant flowers, and delicious and healthy fruit.
| | |
| --- | --- |
| Botanical Name: | Citrus sinensis 'Osbeck' |
| Average Height: | 10 – 12 feet |
| Average Width: | 10 – 12 feet |
| Sunlight: | Full sun |
| Spacing: | 10 feet |
| Grow Zones: | 8 to 11 outdoors | 4 to 11 patio |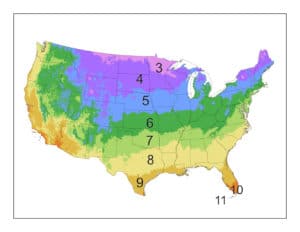 USDA Plant Hardiness Grow Zone Map