Free Ship $119+

Free Ship $130+

Free Ship $119+

ZhuZhou Loropetalum for sale from our top rated online nurseries. Prices are updated daily. Clicking on a 'Shop Now' button will open a new tab to the website listed.
Description
Use ZhuZhou Loropetalum to Create a Unique Privacy Evergreen Hedge!
ZhuZhou Loropetalum, also known as a Chinese fringe flower, can reach a height of up to 10 feet. It features dark maroon foliage and pink fringe flowers.
Chinese Fringe Flower shrubs, as they are commonly called, can be used as an evergreen privacy hedge.
Loropetalum chinense green leaves turn dark burgundy to deep purple black throughout spring and fall. In early spring, stacked fuchsia Chinese fringe-like blooms appear which gives it the nickname Fringe Flower. The bright pink fringe flowers last for weeks during the spring and come back again in late summer..
| | |
| --- | --- |
| Botanical Name: | Loropetalum chinense 'Zhuzhou Fuchsia' |
| Average Height: | 8 – 10 feet |
| Average Width: | 5 – 6 feet |
| Grow Zones: | 6 to 9 |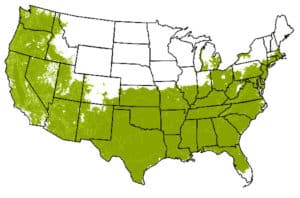 USDA Hardiness Zones 6 to 9
ZhuZhou Loropetalum Frequently Asked Questions
Are Loropetalum evergreens?
Yes! Loropetalum, also known as Chinese Fringe Flower shrubs are evergreens.
How big does ZhuZhou Loropetalum get?
They are popular as a privacy hedge since they get 8 to 10 feet tall. They width at maturity is between 5 & 6 feet.
Are ZhuZhou Loropetalum fast groing?
Their growth rate is considered moderate. You can expect 12 to 18 inches of new growth per year.