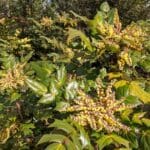 It's been a weird winter lately in our area with temperatures that keep going up and down. I'm in Grow Zone 7b. We had snow flurries Friday and it will hit 74 today (Monday).
Enjoying lunch in my back yard brought an amazing, lily-of-the-valley scent in the light breeze. I knew immediately, Mahonia blooms. Mahonia are flowering evergreen shrubs that are also called Oregon Grape Holly, (Mahonia aquifolium).  I have 5 Leatherleaf Mahonia shrubs towards the back of my yard. I first panted them about 6 years ago. They're now almost 7 feet tall.
The bright yellow blooms were just starting to open and already they were alive with bees swarming in for the pollen. I am not a great photographer but have posted a few pictures below.
Just seeing all the bees for the first time in a while was cool to watch. Anything in suburban life that can keep the bees busy is a good thing.
Mahonia are one of the first shrubs to bloom each year. They are worth it just for the amazing scent in late winter through early spring.  There are even newer introductions that are small enough to grow in containers to keep closer to your home around your patio or entryway. That way you can enjoy their scent even more.
Most Mahonia varieties are woody, upright growing evergreen shrub.  There are varieties rated as far north as grow zone 5 and go down to grow zone 9. They are also great for shady areas. I have mine in a natural setting, underneath a huge oak tree.
If you want something unique for an evergreen hedge, Mahonia may be for you. Most varieties have rough, pointy leaves, similar to many holly leaves. Also keep in mind you will be sharing your hedge with a lot of bees when the blooms come out.
The bright yellow, bell shaped flowers eventually turn to a powdery-blue fruit that resemble small grapes.  The leaves, as you can see from the pictures below resemble holly leaves. The shrubs originate from the Orient and were first brought to the United States in Oregon. Thus, the moniker Oregon Grape Holly.
Buy Evergreen Shrubs compares lowest prices on 4 Mahonia varieties:
Please follow and like us: