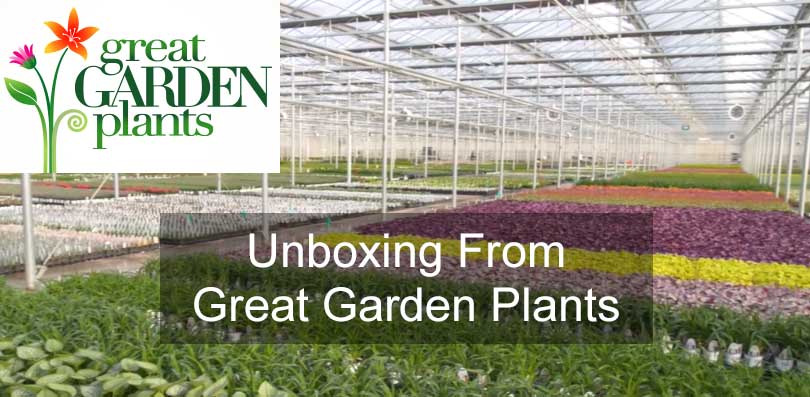 Great Garden Plants Unboxing – We finally ordered from GreatGardenPlants.com! They have only been one of our top online nurseries for over 2 years.
We ordered 3, 1-quart container size Irish Moss and 1, 3-inch container of a Sun Mousse Hosta. Bottom line, we were impressed with every part of the process.  In fact, we will be ordering about 12 more of the Irish Moss that we want to use around a stone walkway in a natural area of our yard.
Great Garden Plants has put a lot of effort into making their website as helpful for you as possible.  It shows.  We knew where we wanted to plant but we were not sure what to plant. GreatGardenPlants.com does a good job helping you to shop plants.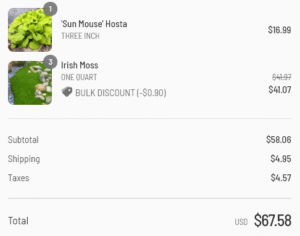 The Irish Moss came in a 1-quart container and there was a small discount if you bought 3 to 5. So, we picked up 3 at $13.69 each.  The Hosta, "Sun Mousse', was $16.99. Our total was $58.06, shipping was $4.95. With taxes, the total was $67.58.
Great Garden Plants is located in Michigan.  We were not sure what quality we would get this early in their growing season. As we discovered from a video on their Facebook page (https://www.facebook.com/greatgardenplants/) their plants are grown in greenhouses.
The plants we received not only looked great but, more importantly, they had great root systems!  That is critical to help ensure success when you introduce new plants to your soil and weather.
The packaging was rather ingenious. The 4 plants were secured within 2 boxes that were then put into one packing box that was taped close. None of the dreaded industrial staples to pry out!! Had to use my pocket-knife to get the poly wrapped around the container off but that is pretty minor consideration.
Each box also had a perforated tab in the middle to make it easy to get both plants out.  It is obvious they have spent some time to figure out what works best for everyone.
We ordered on a Wednesday, received our ship confirmation email the following Monday and the plants arrived Wednesday afternoon. The whole process went very smoothly.
Below is a gallery of all our unboxing pictures from the delivery.
You can view links to all our other online nursery unboxing pictures and reviews here. They are listed right below the rankings.
Irish Moss Plant Details
| | |
| --- | --- |
| Botanical name: | Sagina subulata |
| Common name: | Irish moss |
| Zone: | 4 to 9 |
| Sun exposure: | part shade to part sun |
| Height x width: | 1″ to 15″ |
| Flower color: | white |
| Foliage color: | green |
| Season of interest: | Spring thru fall |
About Irish Moss
Sometimes referred to as Pearlwort, it is sometimes confused with a similar, but less common species called Scotch Moss. Irish Moss stays a vibrant green throughout the year and Scotch Moss has a more of a gold shade in winter.
Irish Moss Uses for your landscape.
Irish Moss (Sagina subulata) is a low-maintenance ground cover that is perfect for use in rock gardens, between pavers, at the edges of a path, and as a limited area lawn substitute.
Great Garden Plants Unboxing Gallery