Ack Scent Camellia for sale from top rated online nurseries. Prices are updated daily. Clicking on a 'Shop Now' button will open a new tab to the website listed.
Description
Ack-Scent Camellia features pink, peony-shaped blooms in early spring. The flowers have amazing spicy fragrance. Like most Camellia's, Ack-Scent does well in shade but it can also thrive in sun. Just try to avoid too much afternoon sun.
Ack Scent Camellia was originally introduced by the US National Arboretum, it is considered a heavy bloomer. It has more of an upright growth habit compared to other Camellia Japonica's. Because of the upright growth, some people grow Ack-Scent as a small tree. You can prune off lower branching to make it into more of an ornamental tree.
| | |
| --- | --- |
| GROW ZONES: | 6 to 9 |
| MATURE WIDTH: | 6 to 8 feet |
| MATURE HEIGHT: | 8 to 12 feet |
| SUNLIGHT: | Full Sun to part shade |
| FLOWER COLOR: | Pink peony type |
| BOTANICAL NAME: | Camellia japonica 'Ack-Scent' |
| SOIL CONDITION: | Any well drained soil |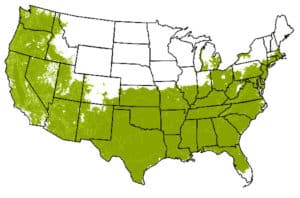 USDA Hardiness Zones 6 to 9