Free Ship $129+

Free Ship $125+

Free Ship $119+

Description
Faster Growing Boxwood is a Professional Landscapers Favorite!
The American Boxwood is a large shrub that grows faster than many other Boxwood varieties.  American Boxwood shrubs are used where a thick dense hedge or privacy screen is wanted. It's also used as a foundation plant, or lush backdrop for smaller shrubs planted in front of it.
American Boxwood shrubs are deer resistant, and easily pruned into any shape. The American Boxwood offers dense, year round coverage in full sun to part shade.  This boxwood also has a slightly paler green color. The leaves are not as dark of a green as most others.  This makes a truly unique standout year-round.
Plant Facts:
| | |
| --- | --- |
| Botanical Name: | Buxus sempervirens |
| Average Height: | 10 -12 feet |
| Average Width: | 8 – 10 feet |
| Sunlight: | Full to partial sun |
| Spacing: | 6 feet |
| Grow Zones: | 5 to 9 |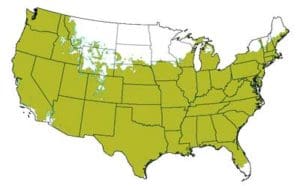 USDA Hardiness Zones 5 to 9
American Boxwood Frequently Asked Questions
How tall do American Boxwoods get?
American Boxwoods grow to an average height of 10 to 12 feet. Boxwoods respond well to pruning. It is pretty easy to keep them pruned to a lower height if desired.
When is the best time to prune Boxwoods?
Winter is the best time for pruning to thin out dead or overgrown limbs. It is also the best time for heavier pruning. Avoid pruning in late fall. Pruning to keep its shape is fine other times of the year.
Is this a good boxwood for a hedge?
YES! As one of the fastest growing Boxwoods, it can get to 10 feet tall and provide a nice hedge along any property line.