Free Ship $129+

Free Ship $130+

Amur River Privet for sale from top rated online nurseries. Prices are updated daily.
Description
One of the Most Popular, Cold Hardy Hedges
Amur River Privet, 'Ligustrum amurense' is considered by many to be the most popular plant to use as a hedge for colder regions. A deciduous shrub, Amur River has small white flowers that will bloom in spring, attracting pollinators.
Amur River Privets can adapt to almost any soil condition. They are drought and cold tolerant. Although they can grow up to 15 feet tall, Amur River Privets can handle pruning to just about any height you prefer. For planting in a row as a hedge, space them out about 4 feet apart.
| | |
| --- | --- |
| Botanical Name | Ligustrum amurense |
| Foliage | Medium Green |
| Mature Height | 12 – 15 feet |
| Mature Spread | 8 feet |
| Soil Type | Widely Adaptable |
| Sun Exposure | Full Sun, Partial Sun |
| Growth Rate | Fast |
| Flower Color | White |
| Grow zones | 4 to 7 |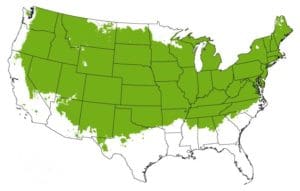 USDA Hardiness Zones 4 to 7
Frequently Asked Questions
Can the Amur River Privet be pruned?
YES! The fast growing, easy to grow Amur River Privet takes very well to pruning to a desired size or width. In fact, the more it's trimmed the denser it will be.
Haw fast does the Amur River Privet grow?
The Amur River Privet is a fast grower, once established it will grow up to 2 feet a year.
Is the Amur River Privet an evergreen?
No. The Amur River Privet is deciduous. It will drop its leaves, but not until well into fall.