Golden Vicary 'ligustrum' for sale online. Prices are updated daily.
Description
Unique Foliage on a Dense Hedge
Golden Vicary Privet 'ligustrum' is fast growing shrub that is prized for it's golden yellow foliage. Fragrant tubular shaped flowers come out in spring and will be magnets for butterflies & other pollinators. The flowers transform into small, black fruit in summer that provide a nice contrast to the golden yellow leaves. Golden Vicary is a deciduous shrub. It will lose its leaves in the winter.
Golden Vicary is very adaptable to most soil conditions, including dry soil. It can handle full sun to part shade. The best color for the leaves is in full sun. Some new growth will start out with green edges but quickly turn to their spectacular golden yellow color.
It is recommended not to prune any more than 4 inches at a time. Pruning is best done before new growth in the spring emerges or late in fall.
| | |
| --- | --- |
| Botanical Name | Ligustrum 'Golden Vicary' |
| Foliage | Yellow |
| Mature Height | 8 – 10 feet |
| Mature Spread | 8 – 10 feet |
| Soil Type | Widely Adaptable |
| Sun Exposure | Full Sun |
| Growth Rate | Fast |
| Grow Zones | 5 to 8 |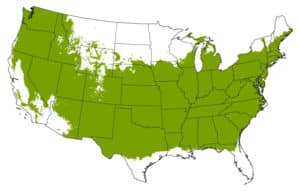 USDA Hardiness Zones 5 to 8