Fragrant Valley Sweet Box prices from top rated online plant nurseries. Prices are updated daily. Clicking on a 'Shop Now' button will open a new tab to the website listed.
Description
This Low Growing Evergreen Loves the Shade
Fragrant Valley Sweet Box shrubs only get 1 to 2 feet tall and up to 3 feet wide.  They're perfect for any shady place where other plants won't survive. Once established, this Sweet Box is drought tolerant. It can go weeks without watering. Sweet Box shrubs, Sarcococca, are deer, rabbit & disease resistant.
| | |
| --- | --- |
| Botanical Name | 942, Sarcococca hookeriana var humilis 'Sarsid1' PP#19 |
| Foliage | Evergreen |
| Mature Height | 2 – 3 feet |
| Mature Spread | 3 – 4 feet |
| Soil Type | Widely Adaptable |
| Moisture | Medium |
| Sun Exposure | Full Shade, Partial Sun |
| Growth Rate | Medium |
| Flower Color | White |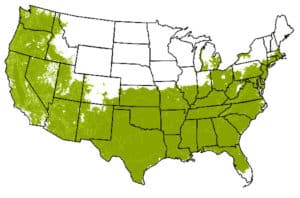 USDA Hardiness Zones 6 to 9