Golden Euonymus prices from top rated online plant nurseries. Prices are updated daily. Clicking on a 'Shop Now' button will open a new tab to the website listed.
Description
Golden Euonymus, Euonymus japonicus 'Aureo-marginatus', has deep green glossy leaves with yellow edges. It is considered a broadleaf evergreen shrub. They are used along foundations, as single specimens and as privacy hedges. They are typically more green in winter and spring. The variegated leaves become more prominent in summer and fall. It can tolerate many soil conditions and once established is drought tolerant. They can also be used as a hedge.
Golden Euonymus Care
Plant in well-drained soil. Water twice a week until established; roughly 6 weeks. Fertilize once a year. This vigorous grower can be pruned or sheared at anytime.
Golden Euonymus  Spacing
Plant 4' apart for hedges as measured from the center of each planting hole. For foundation plants or in the shrub border, plant 7 to 8 feet apart.
| | |
| --- | --- |
| Botanical Name: | Euonymus japonicus 'Aureo-marginatus' |
| Average Height: | 6 – 8 feet |
| Average Width: | 4 – 6 feet |
| Sunshine | Full sun, partial sun |
| Grow Zones: | 6 to 9 |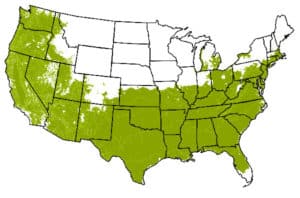 USDA Hardiness Zones 6 to 9
Frequently Asked Questions
How fast does the Golden Euonymus grow?
The golden Euonymus is considered a moderate to fast grower growing 13-24 inches per year.
Can the Golden Euonymus grow in full shade and full sun?
Yes. The Golden Euonymus does well in any sun or shade exposure. It can even be grown indoors.
How far apart should you plant the Golden Euonymus?
For a seamless hedge, plant the Golden Euonymus 2-2.5 feet apart, for a row with space in between plant them 3+ feet apart.
About our price comparisons:
We have either worked for, visited (to evaluate) or ordered from over 50 online garden centers. We strive to compare prices from online nurseries that we have experienced send the highest quality plants at the lowest prices.  Keep in mind that we may receive commissions when you click our links and make purchases. However, this does not impact our reviews, price comparisons or the price you pay. We try our best to keep things fair and balanced, in order to help you make the best choices.