Free Ship $129+

Titan Boxwood for sale from top rated online plant nurseries. Prices are updated daily. Clicking on 'Shop Now' will open a new tab to the website listed.
Description
Versatile Boxwood That Handles Heavy Pruning
Titan Boxwood shrub is one tough evergreen!  It can handle just about any climate in the United States and stay a lush deep green all year. Titan Boxwood, also known as Titan Korean Boxwood, is popular because it does not have any issues browning in winter.  It's referred to as boxwood bronzing and Titan Boxwood is one of the few that won't have that problem.
Even though it's called 'Titan', this boxwood is actually considered a dwarf shrub. It grows between 4 and 6 feet tall. Titan Boxwood has small green leaves and dense foliage. Titan handles heavy pruning well. Titan Boxwood growth rate is slow, anywhere between 6 to 12 inched a year.
| | |
| --- | --- |
| Botanical Name: | Buxus Sinica |
| Mature Height: | 4 – 6 ft. |
| Mature Width: | 3 – 5 feet |
| Sunlight: | Full sun to part sun |
| Spacing: | 2 feet |
| Growth rate | 6 to 12 inches per year |
| Grow Zones: | 4 to 9 |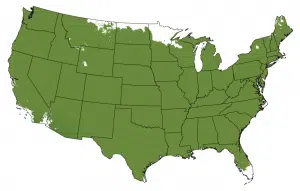 USDA Hardiness Zones 4 to 9