Direct Gardening Grade:  F
Overall rating: 59
Top 20 Rank: Not Ranked
Website:  www.directgardening.com
Location: Bloomington, IL
BUYER BEWARE ALERT: There is a strong pattern of complaints regarding quality of product, delivery times & customer service.
Breakdown of scores from each of the 10 factors we evaluate. You can read details on what each category means and how we score it here.
| | |
| --- | --- |
| Category | Rating |
| Years site Active | 9.5 |
| Prices | 6.5 |
| Return policy | 6 |
| Reviews | 5 |
| Warranty/Guarantee | 6 |
| Selection | 6 |
| Range of sizes | 6 |
| Ship Times | 6 |
| Ship Costs | 8 |
| Usability | 6 |
| Red flags | -6.0 |
| TOTAL SCORE | 59 |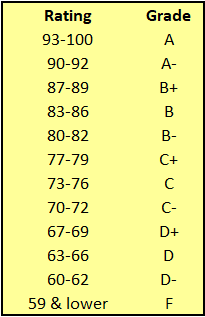 Direct Gardening Review:
NOTE: Direct Gardening has dropped out of our top 20 rankings. We will continue to monitor and update the review as we feel it will help you.
At a total score of 59 Direct Gardening is our first ever online nursery to get the dubious distinction of a failing F grade.
DirectGardening.com has been around a long time, starting in 1999.  That placed it 7th in our evaluations of  online nurseries that we evaluate, everything was not so good.  
Direct Gardening has one of the shortest Terms of Service of all the online nurseries we evaluated. Whatever you do, KEEP the original shipping label! Their return policy has 2 segments. 
If you're not satisfied within the first year send them the plant and original shipping label and they will offer a replacement. "If you are dissatisfied with any merchandise, return it together with the ORIGINAL SHIPPING LABEL within 1 year of receipt for a FREE  REPLACEMENT.   Replacement guarantee is VOID unless the ORIGINAL SHIPPING LABEL is returned."  They actually repeat the same sentence twice. It's odd. It's also very short. You can read Direct Gardening's product guarantee here.
Direct Gardening does offer a refund if notified within 14 days after you received the plant(s).   "For a REFUND of the purchase price, RETURN THE ITEM AND THE ORIGINAL SHIPPING LABEL, with the correct postage affixed, within 14 days of receipt." You should also know we found more than a few reviews claiming they never got the refund owed.
And each month the overall average seems to drop. They're at 811 reviews and their average star rating of 1.4. That should probably be enough to tell you whether to consider shopping there.
It took us a long time but we eventually found 2 plants where Direct Gardening lists a plant size when shipped.  
Direct Gardening doesn't disclose it as far as we could tell but it appears everything is shipped bare root. Kind of explains their low prices.
It seems shipping is flat rate at $9.99.  Again, we couldn't find it stated anywhere but as we added more & more to our cart, the ship cost remained at $9.99. They also offer some free plants with minimum purchases.  Details can be found on their home page.
Compared to other online nurseries, even ones older than Direct Gardening, the site seems a bit outdated & clunky.  Sometimes the small things do matter. The copyright date at the bottom of the website still says 2018.  Relatively minor issue but we strongly urge you to call them if you want to place an order and ask a lot of questions… including why they have so many bad reviews on Google.
What were the red flags? 
The product descriptions are pretty basic, not a lot of details.
No product reviews that we could find.
No container sizes listed that we could find.  If if they are shipping evergreen shrubs bare root, they should have some sort of size range.
Ship times seem a bit vague.
We found broken links as well as sizes that are listed both in and out of stock.
Direct Gardening is getting HAMMERED with bad reviews on Google.  Facebook is worse with a 1.3 average rating.
Is Direct Gardening a good place to buy plants?
Direct Gardening has a 1.4 rating on Google and is the lowest ranked online nursery at buyevergreenshrubs.com
Is Direct Gardening still shipping?
As of November first orders for nursery stock will be scheduled for shipment in 2021.
All the information on this website – www.BuyEvergreenShrubs.com – is published in good faith and for general information purpose only. Buy Evergreen Shrubs does not make any warranties about the completeness, reliability and accuracy of this information. Any action you take upon the information you find on this website (Buy Evergreen Shrubs), is strictly at your own risk. Buy Evergreen Shrubs will not be liable for any losses and/or damages in connection with the use of our website.