Why Experts Say Fall Planting is THE Best Time for Trees and Shrubs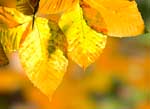 Ask any experienced landscaper and they will tell you that fall is the best time to plant trees and shrubs.
Many parts of the country are still enduring summer-like temperatures as we head into October. So, let's just go with we expect fall weather to be right around the corner. 
Now is the time to plan what you want, where you want to plant them, and how many you need. Whether it's creating privacy, along a border or just to have some color all year round in a few focal points, now is the time to get them in the ground.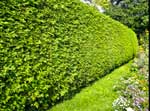 I was just talking to a neighbor yesterday who wants to create a small private outdoor 'living room' area with a fire pit, sitting area & a few evergreens for privacy. Like many people, she was kind of overwhelmed with the choices & options.  She was going to wait until spring to do the plantings.
Hopefully, I helped narrow down her evergreen picks & convinced her to move forward this fall.
Fall planting gives a huge advantage to your newly transplanted trees & shrubs.  As the weather turns to winter, and temperatures drop below freezing most trees & shrubs either go dormant or stop growing… above ground.  Below ground is where they focus all their energy. This energy creates vital new root expansion to help create an explosion of growth and color in the spring.
Planting trees & shrubs in spring is fine but just keep in mind that warmer, summer temperatures will be along pretty soon.  That heat not only stresses out the newer plants above ground but can ruin your roots. They can dry out a lot faster than you may realize. This is especially true if you put your new plants in containers. Regardless of the container materials, the roots can literally bake in the hot summer afternoon sun.
The top-rated online plant nurseries we monitor have a pretty good selection of evergreen trees & shrubs right now. There are more choices than ever before. Browse around our site, find the lowest prices, buy the plants for home delivery, and get your yard and garden revitalized this fall!
The lowest prices are updated daily. We do not get compensated by any of the nurseries whose product prices are listed on our site.