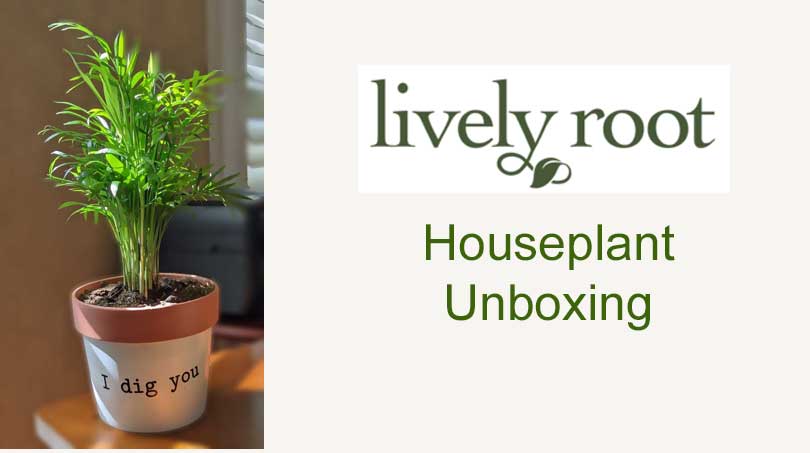 Lively Root houseplant unboxing was way overdue
LivelyRoot.com is one of our top 6 places to buy houseplants online. We have had a few opportunities to exchange emails with members of their team and have been impressed with their passion and dedication.
While the conversations have been great, and their site looks awesome, we decided it was time to verify if the plants live up to the high expectations we established.
When it comes to houseplants, our green thumb disappears. We have managed to keep a peace lily and a golden pothos alive for over 4 years. We also bought a snake plant from My Perfect Plants that is doing amazingly well. You can view unboxing pictures of the snake plant here.
So, easy to care for was a top priority. The other major considerations were something that could hang out on our desk and was non-toxic to dogs. Something that doesn't need a lot of sunlight was also important.
Getting around the Lively Root site was super easy. There's also a lot of good information on care of plants. We decided on a Neanthe Bella Parlor Palm. Part of their description sold us. "The Neanthe Bella Palm is perfect to liven up any desk or workspace. They are extremely resilient and thrive in low light."

We bought a small that was listed as being between 8 and 12 inches tall. We also bought a ceramic 'I Dig You' pot and a 1lb bag of the Lively Root potting soil. The total for the order was $58. At the time we ordered, Lively Root was offering free shipping on orders over $49. $58 for a cute ceramic pot, a houseplant and potting soil, delivered to our door, seemed like a pretty good deal.
We ordered on a Thursday and the packages arrived the following Wednesday. The plant was shipped from San Diego, CA. We're in North Carolina. The cross country trip didn't bother the plant at all. The packaging was secure and pretty amazing.
Even the inside of the box was printed in a vivid green. There was bubble wrap on the outside of the ceramic container as well as inside the container to protect it from the grower pot the plant was in. There was even a cute drawstring cloth bag the whole container was enclosed in.
They also promote sustainability, even with their packaging.
"Our uniquely designed packaging not only keeps your plant safe, but was thoughtfully designed to be eco-friendly as well! Inside the box itself, every plant has a custom-made layer of compostable coco fabric to help compress and hold in place the soil during the sometimes rough shipping process. The box is made from recycled paper products such as cardboard and newsprint, we wanted to ensure that every part of our process is as green as possible, from the leaves on your new plants to the packaging it arrives in."
The packaging and labor to box the orders can't be cheap. The whole process from ordering to the plant itself was impressive. The plant came in at 11 inches tall, right at the top end of the 8 to 12 inches listed for the size on their website.
Overall, we were impressed and highly recommend LivelyRoot.com.
Lively Root Unboxing Pictures
Frequently Asked Questions
Where is Lively Root located?
Lively Root is located in San Diego, CA
Where are Lively Root plants shipped from?
Most plants are shipped from San Diego but they do have local nursery partners across the US.
Does Lively Root offer free shipping?
Yes. The minimum order to qualify for free shipping does change. Check their site at www.livelyroot.com to find the latest information.
About our price comparisons:
We have either worked for, visited (to evaluate) or ordered from over 50 online garden centers. We strive to compare prices from online nurseries that we have experienced send the highest quality plants at the lowest prices.  Keep in mind that we may receive commissions when you click our links and make purchases. However, this does not impact our reviews, price comparisons or the price you pay. We try our best to keep things fair and balanced, in order to help you make the best choices.