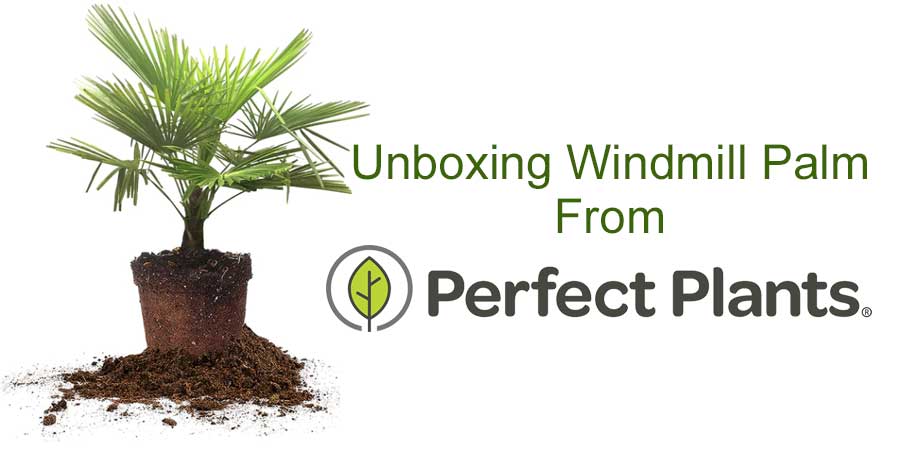 Unboxing Perfect Plants
It was just over 5 years ago that I bought one, Musa Basjoo Banana plant. Little did I know at the time that these crazy fast-growing perennials suckered out new plants every year. When I say fast, they die back to the ground each winter and will get back to 10+ feet by Memorial Day weekend.
I've probably given away at least 30 and I still at least 60 in my back yard. What was once a novelty along the pool has turned into an overgrown tropical jungle.
Anyway, I hacked out a clump of 15 trees out by the shallow end of the pool. It took a shovel, axe, sweat and patience to get all the roots out.
I decided I wanted to stay with a tropical vibe in my new empty space.  We are in USDA Hardiness Grow Zone 7b, so I needed something that could handle occasional freezing temperatures.
We ended up with a Windmill Palm tree from Perfect Plants Nursery, https://myperfectplants.com/products/windmill-palm-tree.
Windmill Palm Trees are relatively slow growers. That was a plus for us after enduring the aggressively multiplying, fast-growing banana trees.
A True Cold Hardy Palm Tree!
Windmill Palm trees are drought tolerant, pest resistant and cold hardy. They can supposedly survive temperatures as cold as -10 degrees Fahrenheit.  Hopefully, we will never have to test it with temperatures anywhere near that frigid but we do get some spells below freezing and even the occasional dusting of snow.
Getting around the My Perfect Plants website Is super easy. Everything seems very intuitive. The 3-gallon Windmill Palm at the time we bought it was $54.95. That was less expensive than any of our other top rated online nurseries who sold the Windmill Palm.
Perfect Plants also had a lot of great information from planting to care. The information was spelled out in simple terms and was helpful for novices like me who have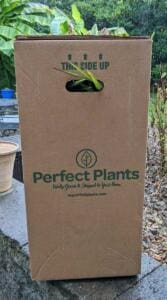 never planted a palm tree.
Unboxing Perfect Plants Windmill Palm tree
The tree arrived at our front door 4 days after ordering. They say first impressions are important. Unboxing Perfect Plants Windmill Palm was a pleasant surprise!
This palm tree was so full, there were fronds sticking out from one of the box cutout 'handles'! Even when we opened the box, we saw a tree full of foliage. Packaging was very secure. The tree came in at just under 2 feet when measuring from the top of the soil.
Overall, I'm very happy with the whole process. From buying online, the fast delivery, the secure packaging to the size of the plant we bought.
Perfect Plants may be one of the newer online nurseries but they have been a grower and wholesaler of a large selection of trees, shrubs, perennials, houseplants and soil amendments since 1980. You don't survive in this business for this long unless you are growing and selling landscape quality plants.
The fact they are an actual grower is probably why some of their prices are so attractive. You are literally buying from the grower. Most larger online plant nurseries buy their plants plants from places like Perfect Plants. That has helped them to rise into #4 of our top rated online nurseries.
This was our 5th plant purchased from Perfect Plants Nursery over the past two and a half years.  We've bought Loropetalum shrubs, a Snake houseplant, Pink Muhly grass and a ShiShi Gashira Camellia. Each plant surpassed our expectations. Even better, each one is alive and thriving.
Unboxing Perfect Plants Windmill Palm Gallery
About our price comparisons:
We have either worked for, visited (to evaluate) or ordered from over 50 online garden centers. We strive to compare prices from online nurseries that we have experienced send the highest quality plants at the lowest prices.  Keep in mind that we may receive commissions when you click our links and make purchases. However, this does not impact our reviews, price comparisons or the price you pay. We try our best to keep things fair and balanced, in order to help you make the best choices.