Free Ship $129+

Free Ship $130+

Free Ship $99+

Description
Bald Cypress is a Fast Growing Native Tree!
Although Bald Cypress has needles, it is technically not an evergreen but a coniferous tree that will lose it's needles in winter. Thus the name 'Bald' Cypress.  These trees thrive in wet areas. It is a classic tree found in swamps. Not only thriving in moist soil, Bald Cypress have also proven to perform well in dry areas. This makes it a popular tree as a stand alone specimen in may home landscapes.
| | |
| --- | --- |
| Botanical Name: | Taxodium distichum |
| Average Height: | 50 – 60 feet |
| Average Width: | 25 – 30 feet |
| Sunlight: | full sun, part sun |
| Spacing: | 20 feet |
| Grow Zones: | 4 to 9 |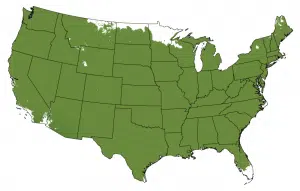 USDA Hardiness Zones 4 to 9

About our price comparisons:
We have either worked for, visited (to evaluate) or ordered from over 50 online garden centers. We strive to compare prices from online nurseries that we have experienced send the highest quality plants at the lowest prices.  Keep in mind that we may receive commissions when you click our links and make purchases. However, this does not impact our reviews, price comparisons or the price you pay. We try our best to keep things fair and balanced, in order to help you make the best choices.