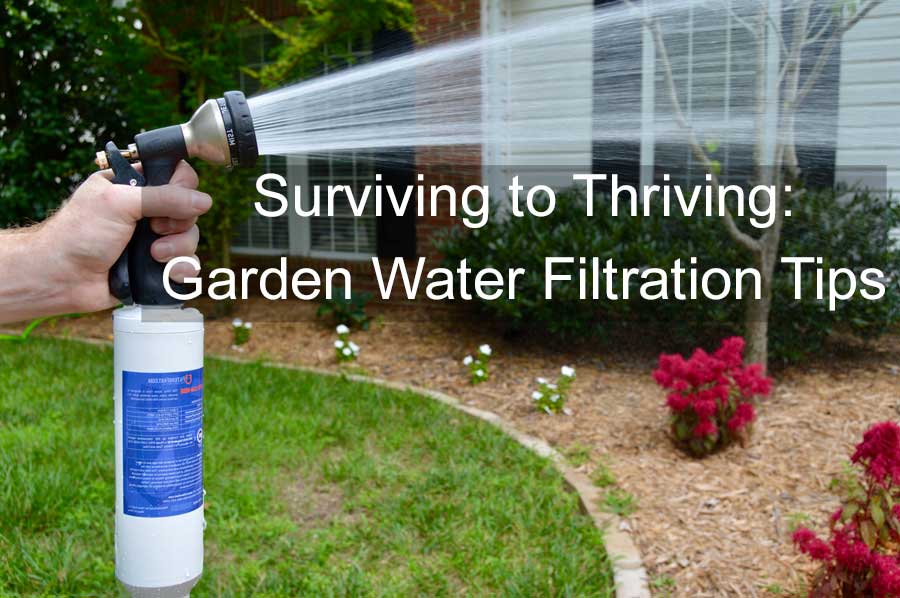 Surviving to Thriving: Garden Water Filtration Tips

Water is the sustainer of life. For humans, drinking water helps keep our blood running through our veins and coursing through our system to provide oxygen and nutrients to vital parts of our bodies.
Water acts in a similar vein to plants, traveling through its roots and its vascular system, then through the stems, leaves, buds, and fruit. Water quality is extremely important because of the extent that it is utilized by a plant.
The question now is: "How can you ensure that your garden gets the best quality of water possible?" The answer is quite simple- filtration!
What Is Water Filtration and How Can it Benefit Your Garden?
Let's say you've picked out the best organic seeds for your garden. You've chosen enriched soil as well as optimized a sun vs. shade ratio layout for plants that thrive in both settings. All this preparation can be ruined if you don't have proper filtration.
It's important not to confuse water filtration with irrigation, as an irrigation system is the layout of the veins while filtration concerns the water running through them. Filtration will keep your garden fresh, stable, and safe.
Water filtration for gardening is the process of providing your plants with premium access to quality water by reducing chlorine, fluoride, and heavy metals. Municipal water supplies commonly use chlorine to sanitize tap water and kill disease-causing germs.
Chlorine is a micronutrient that can help your plants grow. However, too much chlorine can be detrimental to plants in your garden. Chlorine can accumulate in leaf tissue, making them look scorched. It can also kill beneficial bacteria, microbes, and microorganisms in your soil.
How Do You Implement Water Filtration in Your Garden?
It's not hard to start utilizing water filtration systems in your garden. It's as easy as purchasing a garden hose filter and installing it! I've found two options that are worth giving a try.
The first is the Rainshow'r Gard'n Gro GG-2010 Garden Hose Filter System. This disposable filter is specifically designed for use in your garden. It's tough enough to remove up to 85% of chlorine from your garden hose water while being delicate enough to protect lovely garden life like ladybugs, lacewings, and nematodes. This filter can process a minimum of 20,000 gallons of water making it a worthy investment.
The second option is the Filters Fast ® Inline Water Filter with Flexible Connector Hose. It is a great multi-purpose filter at a great price. It uses Kinetic Degradation Fluxion (KDF) filtration to provide clean water and can be used in more situations such as in your RV if you're inclined to do so. This filter can process up to 1,350 gallons of water making it an essential seasonal garden tool.
The main differences between these two garden hose filters are price and filter life. Regardless of which filter you choose; these filters can help invigorate your plants and can further boost your garden providing improved growth.
Summary
Water filtration could be the missing piece in taking your garden from surviving to thriving. It can provide your plants with the highest quality of water by reducing chlorine and other harmful contaminants. Adding filtration to your garden is a breeze. Just by installing a garden hose filter system, you can reap all the benefits of filtration for the plants in your garden.
FREE SHIPPING on orders over $99 | FREE 365-DAY RETURNS 
**This post contains affiliate links and we will be compensated if you make a purchase after clicking on our links. However, this does not impact our reviews, price comparisons or the price you pay. We try our best to keep things fair and balanced, in order to help you make the best choices.