Free Ship $149+

Free Ship $130+

Blue Atlas Cedar prices from our top rated online plant nurseries. Prices & availability are updated daily. Clicking on a 'Shop Now' button will open a new tab to the website listed.
Description
The Blue Atlas cedar tree  features silvery blue to an almost blue-green needles. It is the most popular of all Atlas cedars. It is a majestic evergreen tree, with limbs covered with patches of the unique needles. They are Deer resistant and drought tolerant once established.
Blue Atlas Cedar Plant Facts
| | |
| --- | --- |
| Botanical Name: | |
| Average Height: | 40 – 50 feet |
| Average Width: | 20 – 30 feet |
| Sunlight: | full sun |
| Spacing: | 20 feet |
| Grow Zones: | 6 to 9 |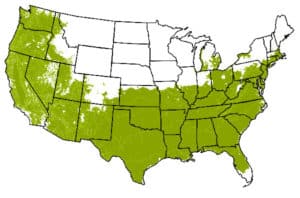 USDA Hardiness Zones 6 to 9
Frequently Asked Questions
How long do Blue Atlas Cedars live?
The Blue Atlas Cedar has a long life span, they can live up to 150 years.
How fast does a Blue Atlas Cedar grow?
The Blue Atlas Cedar is considered a slow grower, growing approximately 12 inches per year.
Where should you plant a Blue Atlas Cedar?
The Blue Atlas Cedar is a needled evergreen, that prefers acidic, well-drained soil, and partial to full sun.