Free Ship $129+

Free Ship $129+

California Honey Mandarin trees for sale from our top rated online nurseries. Prices are updated daily.
Description
Buy California Honey Mandarin Trees Online
California Honey Mandarin is a semi-dwarf tree is great to grow in a container for around a patio. In colder regions, simply bring indoors for winter.
Semi-dwarf means it will be a little taller than a dwarf tree but less than half the size of a regular, standard tree. Overall, an average height a person could still pick the fruit off a semi-dwarf tree without needing a ladder. In colder climates of zones 4 through 7, grow it in a container and bring it inside for winter.  Keep it near a sunny window.
| | |
| --- | --- |
| Botanical Name | Citrus x reticulata 'California Honey' |
| Grow Zones | 4 – 8 patio / 9 – 11 outdoors |
| Mature Height | 8 – 10 feet |
| Mature Spread | 4 – 6 feet |
| Sunlight | Full sun to partial sun |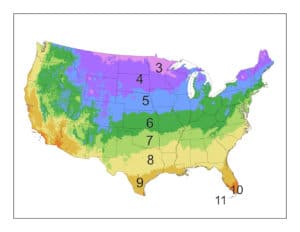 USDA Hardiness Grow Zones
Frequently Asked Questions
Can the California Honey Mandarin be grown in colder zones?
In colder zones the California Honey Mandarin can be planted in a pot and grown on a patio during the warm months, then brought inside for the colder months.
Is the California Honey Mandarin seedless?
Yes. The California Honey Mandarin produces a seedless, easy to peel, sweet fruit.
When is the fruit ripe on the California Honey Mandarin?
The fruit from the California Honey Mandarin is harvested in the fall.
About our price comparisons:
We have either worked for, visited (to evaluate) or ordered from over 50 online garden centers. We strive to compare prices from online nurseries that we have experienced send the highest quality plants at the lowest prices.  Keep in mind that we may receive commissions when you click our links and make purchases. However, this does not impact our reviews, price comparisons or the price you pay. We try our best to keep things fair and balanced, in order to help you make the best choices.