Free Ship $130+

Free Ship $129+

Description
Dense, Fast Growing Hedge
California Privet 'ligustrum' is fast growing and popular as a hedge or privacy screen. It has creamy white flowers in late spring followed by small black berries in summer that birds love. It is considered a semi-evergreen in colder climates, losing its outer leaves during extended sub-freezing temperatures.
California Privet are heat & drought tolerant once established. California Privet can grow up to 15 feet tall but can handle heavy pruning to keep them at just about any height 6 feet and up.
| | |
| --- | --- |
| Botanical Name | Ligustrum ovalifolium |
| Foliage | Green |
| Mature Height | 10 – 15 feet |
| Mature Spread | 10 – 15 feet |
| Soil Type | Widely Adaptable |
| Moisture | Average |
| Sun Exposure | Full Sun, Partial Sun |
| Growth Rate | Fast |
| Flower Color | White |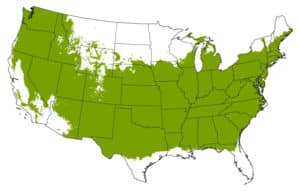 USDA Hardiness Zones 5 to 8
Frequently Asked Questions
How fast does the California privet grow?
The California privet is a fast grower! It can grow more than 3 feet a year. However, the California privet takes well to pruning and can be kept at a desired size easily.
How far apart should the California privet be planted?
For a thick, dense hedge plant the California privet about 6 feet part. For a looser row with space between, plant the California privet 9 or more feet apart.
Are California Privet evergreens?
They are considered semi-evergreen. This means that during prolonged cold spells below freezing, they can lose some of their outer leaves.
About our price comparisons:
We have either worked for, visited (to evaluate) or ordered from over 50 online garden centers. We strive to compare prices from online nurseries that we have experienced send the highest quality plants at the lowest prices.  Keep in mind that we may receive commissions when you click our links and make purchases. However, this does not impact our reviews, price comparisons or the price you pay. We try our best to keep things fair and balanced, in order to help you make the best choices.