Free Shipping $125+

Free Shipping $99+

Description
Dwarf Buford Holly is one of the few self-pollinating hollies. In other words, each shrub can produce the classic red berries without needing a pollinator. It grows up to 6 feet but can be kept pruned to a low as 3 feet. This makes it a great choice as a medium size hedge. Dwarf Burford is also one of the most tolerant holly shrubs. It can handle partial sun, like underneath a tree and is drought tolerant once established. It can also grow in almost any soil condition where other hollies will turn brown or die. Growth rate for Buford Hollies is slow. Depending on the growing conditions, don't expect much more than 6 inches of new growth per year. Unless you're willing to wait a few years, consider buying more mature, 3 gallon container sizes. We also strongly recommend you call the nursery before buying and ask questions such as:
Is the plant well rooted in? You don't want a shrub that has just been transplanted from a smaller container. You'll get more dirt than roots.
What is the approximate height and age? Both are important. Having worked at online nurseries for many years, the most popular question was asking about height.There are ways greenhouses can 'sweat out' a plant to push faster growth. You should really push for an answer on the age of the shrub. For a 3 gallon container size shrub, the shrub should be 2 to 4 years old.
Do you prune your shrubs before shipping? If yes, by how much? Again, having been in the online nursery business for 10 years I've seen a little bit of everything. Minor pruning just to clean up a tree or shrub is okay. Major pruning is done by some nurseries so they can get the plant in a smaller box and save on shipping costs. That's not ok.  This is where asking for minimum height comes in.
| | |
| --- | --- |
| Mature Height | 4-6 ft. |
| Mature Width | 4-6 ft. |
| Sunlight | Full – Partial |
| Soil Conditions | Tolerant of all soil types |
| Drought Tolerance | Good |
| Growth Rate | Slow |
| Botanical Name | Ilex cornuta 'Dwarf Burford' |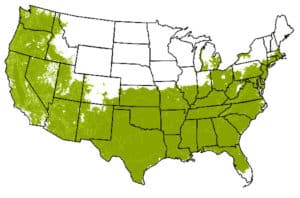 USDA Hardiness Zones 6 to 9