Oak Leaf Holly shrubs for sale from top rated online plant nurseries. Prices are updated daily. Clicking on a 'Shop Now' button will open a new tab to the website listed.
Description
Oak Leaf Holly is a Great Choice For a Privacy Hedge
Attractive, evergreen foliage
Red berries
Pyramidal shape
Year-round interest
The Oak Leaf™ Holly is a newer variety that has fast become a professional landscapers favorite. It's fast-growing, cold hardy and drought tolerant. It also doesn't require a lot of care or pruning. They're great for planting in a row for a live privacy screen.
Unlike many other American hollies, the Ilex Oakleaf will set bright red berries without needing a pollinator because it has both male and female flower parts in each flower.
Plant Facts
| | |
| --- | --- |
| Mature Height: | 15-20 ft. |
| Mature Width: | 12-15 ft. |
| Sunlight: | Full sun to partial sun |
| Growth Rate: | Fast |
| Botanical Name: | Ilex x 'Conaf' P.P.# 9487 |
| Grow Zones | 6 to 9 |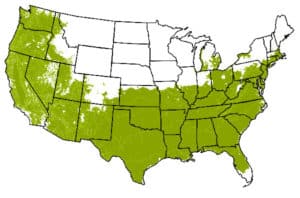 USDA Hardiness Zones 6 through 9
How to Plant Oak leaf Hollies
The fast growing Oak Leaf Holly prefers full to partial sun and slightly acidic, well-drained soil. It can tolerate light shade in warmer zones. The cold hardy variety of holly is stunning as a tall hedge, foundation plant, or specimen plant.
Oak Leaf Holly Frequently Asked Questions
How tall do Oak leaf Hollies get?
At maturity, Oak Leaf hollies get up to 20 feet tall and 15 feet wide.
Does Oak Leaf need a pollinator to get red berries?
No! Oak Leaf is a newer variety holly cultivated intentionally so that it can produce bright red berries in winter without needing a pollinator.
How fast do Oak Leaf Hollies grow?
Their growth rate is considered fast. In ideal planting conditions, expect at least 2 feet of new growth per year.
Are Oak leaf Hollies considered a tree or shrub?
It is technically considered a shrub but many people use them as privacy trees since they have thick foliage from the ground up and can get 20 feet tall.
Are Oak Leaf Hollies deer resistant?
Deer resistant, yes. Deer proof, maybe not. Holly shrubs will not be near the top of the menu for any deer but if they are hungry enough, they may try nibbling on the foliage.

About our price comparisons:
We have either worked for, visited (to evaluate) or ordered from over 50 online garden centers. We strive to compare prices from online nurseries that we have experienced send the highest quality plants at the lowest prices.  Keep in mind that we may receive commissions when you click our links and make purchases. However, this does not impact our reviews, price comparisons or the price you pay. We try our best to keep things fair and balanced, in order to help you make the best choices.