Description
Sunshine Ligustrum For Sale Online
Brings Year Round Bright Color in a Low Growing Shrub
This bright Ligustrum 'privet' is part of the Southern Living Landscape Collection. It is a hybrid that, unlike most other Ligustrum, don't flower. No pollen!  Sunshine Ligustrum is an evergreen shrub that can handle cold weather down to 0 degrees Fahrenheit. Some leaves will change to a slight orange hue during extended extremely cold periods.
Sunshine Ligustrum prefers full sun but can handle areas with part sun. They can adapt to most soil conditions except areas that stay constantly moist.
| | |
| --- | --- |
| Botanical Name | Ligustrum sinense 'Sunshine' |
| Foliage | Yellow |
| Mature Height | 3 to 4 feet |
| Mature Spread | 3 to 4 feet |
| Soil Type | Widely Adaptable |
| Sun Exposure | Full Sun to part sun |
| Growth Rate | Moderate |
| Grow Zones | 6 to 10 |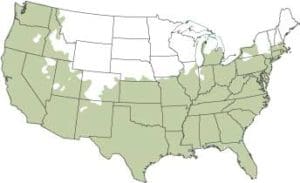 USDA Hardiness Zones 6 to 10
Frequently Asked Questions
Do Sunshine Ligustrum require full sun?
They can handle full sun, including the typically scorching late afternoon summer sun. These Ligustrum are also just as comfortable growing in areas with just partial sunlight.
Are Sunshine Ligustrum fast growing?
Like most Ligustrum, Sunshine is considered fast growing. It can grow up to a foot a year and can reach its mature height in just a few years.
Are Sunshine Ligustrum cold hardy?
Yes? Sunshine Ligustrum can handle temperatures down to 0 degrees Fahrenheit. Some leaves may turn bright orange for prolonged periods below 0.
Do Sunshine Ligustrum attract bees?
No! This is a hybrid Ligustrum that is sterile. That means no flowers that typically attract many pollinators, especially bees.
About our price comparisons:
We have either worked for, visited (to evaluate) or ordered from over 50 online garden centers. We strive to compare prices from online nurseries that we have experienced send the highest quality plants at the lowest prices.  Keep in mind that we may receive commissions when you click our links and make purchases. However, this does not impact our reviews, price comparisons or the price you pay. We try our best to keep things fair and balanced, in order to help you make the best choices.