Free Ship $179+

Tulip Poplar prices from our top rated online plant nurseries. Prices are updated daily. Clicking on a 'Shop Now' button will open a new tab to the website listed.
Description
One of the Fastest Growing Flowering Shade Trees
Tulip Poplar Trees are the state tree for Indiana, Kentucky & Tennessee. The multi-colored blooms come out in May & June. Tulip Poplar tree flowers are known for producing a lot of nectar, attracting hummingbirds. The fall color is an amazing bright yellow.
Tulip Poplar trees are considered fast growing and can thrive from grow zone 4 through 9. The trees are a native to the United States and are very popular as shade trees.
Tulip Poplar trees are technically not a poplar but belong to the magnolia family.
| | |
| --- | --- |
| Botanical Name | Liriodendron tulipifera |
| Grow Zones | 4 to 9 |
| Mature Height | 70 – 90 feet |
| Mature Spread | 30 – 50 feet |
| Soil Type | Widely Adaptable |
| Sun Exposure | Full Sun |
| Growth Rate | Medium |
| Flower Color | Orange and Yellow |
| Fall Color | Yellow |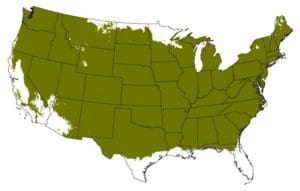 USDA Hardiness Zones 4 to 9