Tulip Poplar prices from our top rated online plant nurseries. Prices are updated hourly. Clicking on a 'Shop Now' button will open a new tab to the website listed.
Description
Tulip Poplar is One of the Fastest Growing Flowering Shade Trees
Tulip Poplar Trees are the state tree for Indiana, Kentucky & Tennessee. The multi-colored blooms come out in May & June. This trees flowers are known for producing a lot of nectar, attracting hummingbirds. The fall color is an amazing bright yellow.
Tulip Poplar trees are considered fast growing and can thrive from grow zone 4 through 9. The trees are a native to the United States and are very popular as shade trees.
Technically this is not a poplar but belongs to the magnolia family.
| | |
| --- | --- |
| Botanical Name | Liriodendron tulipifera |
| Grow Zones | 4 to 9 |
| Mature Height | 70 – 90 feet |
| Mature Spread | 30 – 50 feet |
| Soil Type | Widely Adaptable |
| Sun Exposure | Full Sun |
| Growth Rate | Medium |
| Flower Color | Orange and Yellow |
| Fall Color | Yellow |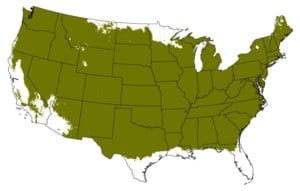 USDA Hardiness Zones 4 to 9
Tulip Poplar Tree Frequently Asked Questions:
How big do Tulip Polar trees get?
At maturity they are 70 to 90 feet tall. Their canopy can spread out as much as 40 feet.
Are Tulip Poplar tree roots invasive?
No. But, like any large hardwood shade tree, it is best not to plant it too close to any structure, walkway or driveway. This allows the roots to absorb the moisture it needs.
How fast do Tulip Poplar trees grow?
Tulip Poplar trees grow up to 2 feet a year when they are younger. As they mature and get older, the growth rate slows down considerably.
Do Tulip Polar tree flowers make a mess?
The flowers do attract pollinators, such as butterflies and aphids. Aphids are known for secreting a sticky mess as they consume the pollen of the flowers.
About our price comparisons:
We have either worked for, visited (to evaluate) or ordered from over 50 online garden centers. We strive to compare prices from online nurseries that we have experienced send the highest quality plants at the lowest prices.  Keep in mind that we may receive commissions when you click our links and make purchases. However, this does not impact our reviews, price comparisons or the price you pay. We try our best to keep things fair and balanced, in order to help you make the best choices.