Wax Leaf Ligustrum for sale from top rated online plant nurseries. Prices are updated daily. Clicking on a 'Shop Now' button will open a new tab to the website listed.
Description
Wax Leaf Ligustrum For Sale Online
Popular Dense, Fast Growing Evergreen
Wax leaf Ligustrum, or Privet is fast growing with dense foliage commonly used as a tall hedge. It has very fragrant white flowers in spring. It handles pruning well to maintain a neat, well manicured look.
This fast-growing hedge can be grown in almost any soil condition, including sandy & hard packed clay soils. It is one of the few evergreen hedges that can also handle growing in shady areas.
Make sure to water regularly after planting until established, for roughly 6 weeks.  After that the Wax Leaf Ligustrum is pretty tolerant of droughts and long, hot, sunny summer days. It is also popular along the cost since salt spray doesn't affect it at all. Wax Leaf Ligustrum shrubs are also deer resistant and have no known pest problems.
Plant Facts
| | |
| --- | --- |
| Botanical Name: | Ligustrum japonicum 'Texanum' |
| Average Height: | 8 – 10 feet |
| Average Width: | 6 – 8 feet |
| Growth Rate: | Fast |
| Grow Zones: | 7 to 11 |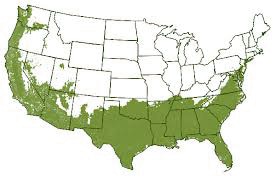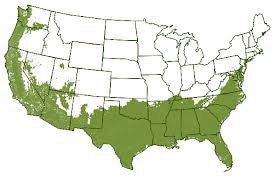 USDA Hardiness Zones 7 to 11
Wax Leaf Ligustrum (Privet) Frequently Asked Questions
How fast will a Wax Leaf Ligustrum grow?
Wax Leaf Ligustrum are considered fast growing, gaining 2 feet or more of new growth per year.
Are Wax Leaf Ligustrum deer proof?
There are few plants in nature that are truly deer 'proof'. If hungry enough, they are known to munch on almost anything. Wax Leaf Ligustrum are definitely deer resistant. They are also considered drought tolerant.
Do Wax Leaf Ligustrum grow in shade?
Wax Leaf Ligustrum thrive in full sun to partial sun. They can survive growing under a shade tree but will not grow as fast.
How far apart should I plant Wax Leaf Ligustrum?
Wax Leaf Ligustrum perform best when they have room to allow for air circulation. They can grow an average of 6 to 8 feet wide. Plant them roughly 5 feet apart from the middle of your planting hole..
Wax Leaf Ligustrum care
This is a hedge that require very little maintenance. Just some simple pruning to keep to a desired size making it easy to care for!  Plant waxleaf ligustrum in full sun or partial shade. They prefer well-drained soil. It is drought tolerant but be sure to water well the 6 to 8 weeks after planting to establish a strong root system. Once established, it is also salt spray tolerant.
About our price comparisons:
We have either worked for, visited (to evaluate) or ordered from over 50 online garden centers. We strive to compare prices from online nurseries that we have experienced send the highest quality plants at the lowest prices.  Keep in mind that we may receive commissions when you click our links and make purchases. However, this does not impact our reviews, price comparisons or the price you pay. We try our best to keep things fair and balanced, in order to help you make the best choices.
Wax Leaf Ligustrum For Sale | Compare Best Prices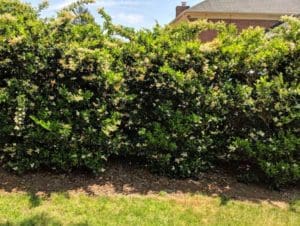 Compare today's lowest prices on Wax Leaf Ligustrum (Privet) & other evergreen hedges for sale from top rated online nurseries. Why pay more?
Product SKU: 1343